If you think that only a trip to Hyderabad or Lucknow can give you a feel of the nawabi era, then you have overlooked our very own Murshidabad.
The name Murshidabad was derived from Mukhsudabad, a city founded by Mukhsudan Das. In 1704, then nawab of Bengal Murshidkuli Khan shifted the capital from Dhaka to this place. Thus began a new era in the history of Bengal.
Murshidabad was the centre of all political moves in Bengal till 1757 when Siraj-ud-Daula, the last independent nawab of Bengal was vanquished in the Battle of Plassey, The majestic palace, haveli and other reminders of the nawabi rule still leaves visitors spellbound.
It takes about four hours to reach Baharampur from Kolkata by road. From Baharampur, any auto will take the visitor to Lalbag, where most of the tourist spots are situated. The main attraction of Lalbag is Hazarduari (a thousand doors), a marvelous plalce built by Nawab Nazim Humayan Jha. Governor-general Lord William Cavendish laid the foundation stone of this massive building of August 29, 1829. It took nine years to built it. Designed by Duncan McLeod, the palace is a perfect harmony of Greek and Italian architecture. Its durbar hall has a lamp gifted by Queen Victoria and a fabulous statue of Venus. To see the palace properly would take over five hours.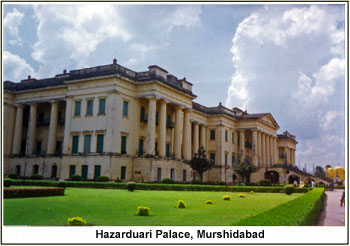 The other prime tourist attraction of Murshidabad is Katra Masjid, Katra meaning a marketplace. The mosque was built in 1723 by Nawab Murshid Quli Khan. History says that many Hindu temples were destroyed and many Hindu zaminders looted to build the mosque. The mosque originally had four 70-ft high towers at four corners. Two of them were later destroyed in a quake.
Jahan Kosha, the great cannon, is one of the wonders of this city. Built by one Janardhan Karmakar in 1637. When Murshid Quli shifted his capital here from Dhaka, the cannon also came with him. The cannon is so huge that 212 kg of gun-powder was required to set it off.
The palace of Jagat Seth, the rich Marwari businessman and one of the conspirators in the plot of bring down Siraj, is another noteworthy place. This was the centre of intrigue during the turbulent period of mid 18th century Bengal.
With such rich history, does one need to look further for royal grandeur?
Travel Information
Take any Baharampur-bound bus, government or private, from the Shaheed Minar. It's a four-hour journey to Baharampur and then on to Lalbag by auto.Murshidabad has standard restaurants and hotels with A/C and non-A/C rooms. The best way to touch all the tourist spots is in a tonga, but do bargain before hopping in.To reach Khoshbag, the grave of Shiraj, take a boat from Hazarduari. The Baharampur Government Tourist Lodge is a good place to have lunch. It's also a good idea to take a local guide along. There is no restriction on photography except inside Hazarduari.Shopping enthusiasts can also buy genuine Murshadabadi silk saris here.