| | |
| --- | --- |
| SERENITY,SORROW AND A LAKE | |
Nature, history, and mythology came together to create Nainital. It would be tragic to lose the lake town to negligence, pollution, and encroachment, believes SOMEN SENGUPTA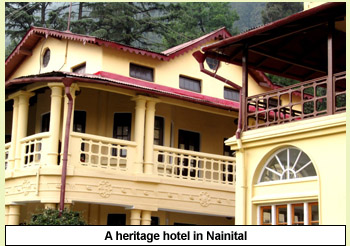 In 1839 a rich British businessman from sugar industry of Saharanpur town was hunting in deep jungle of Kumaon near Himalayan foothills of Kathgodam. Soon he lost his track and diverted to wrong direction.

Little did he know that his messy navigation in the jungle will accidentally land him up on the page of history as founding father of India's unique lake town where in next 150 years European ruling and trading in India will find their retreat and Indian rich will soon grab it as their new home in hill.

P.Barron the sugar tycoon of East india Company took no time to fall in love with a landscape where he actually arrived instead of going to Kathgodam. He arrived at a place that had several lakes bordering with deep dark forest and whose horizons were decorated with snow capped Himalayan peaks. However he took 3 more years to shift his base to this lake district and with his house named " Pilgrim Cottage" built in 1842 a new hill retreat was added in British India's geography. After Anglo-Nepalese war in 1816 Kumaon part of Himalayan area came under the control of East India Company. They lost no time in examining expansion possibility of their ever increasing kingdom in India

Soon around the lake which was once full of forest and frequented by Himalayan bear, deer and leopard gave way to human settlement mostly Europeans. Today impossible it may sound but fact remains that population of this small picture postcard lake side town was so thin that in a devastated natural calamity of 1880 actual number of death were comparatively low.

It will be wrong if this valley of lakes is only connected to British East India Company's officials and rich businessmen.

Infact mythological legend is mingled with this place from time immemorial. Mythology refers it that when Shiva out of anger and notion of revenge was performing "rudra tandava" the terrifying dance of destruction with the dead body of his beloved wife Sati on his shoulder, it was Vishnu who for the sake of stopping the mayhem amputed Sati's bodies into the pieces. Legend has it that the beautiful eyes or nayans of Sati had fallen here in this place .Thus this place is so beautiful. Thus the place was also named Naini and the biggest lake was named as Naintital. Soon the town situated at the 1938 ft from sea level was also named after the lake.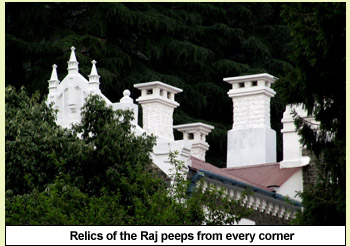 A massive landslide on 18th September 1880 not only killed several people and reduced almost all houses in rubble it also changed the size and shape of it's all lakes overnight. The main lake was reduced to one third and now measure only 1370 mt long and 360 mt wide. The north part of the lake is known as Talital while the south part is known as Mallital.

Other significant lakes near the towns are Bhimtal, Naukuchi tal and Sattal. These are much smaller in size compared to Nainital. Out of all these Bhimtal which is 22 km far from the town is again pregnant with mythological legend. It is believed that Bhima the middle Pandava created this lake for the sake of sustaining thirst of Draupadi.There is a shiva temple here named as Bhimeshwar Shiva.Sattal was once a combined bundle of seven lakes.Now 2 are dried up and only 5 exist.

Considered as one of the top Shaktipith pilgrimage for hindus Nainital as a place with it's beauty of merit charms common people who want a solitude in nature.

The earliest reference finds a name called Motiram Shah who set up a temple of Nayanmata here in 1824. However that temples along with many other buildings were reduced to rubble in 1880 and a new temple came up in 1883 by local hindus.

The legend of the lake is not only limited with Sati and her beautiful eyes.

Another version goes that three holymen viz Atri, Pulasto and Puloho while scaling the mountain felt thirsty and they created a water tank which was later converted into a beautiful lake. It is believed that water of Manas sarovar flows into this lake.

British traders had very little to do with all these hindu mythology and temple.

They took this place seriously and soon they developed it as an escape destination from Delhi's and central India's heat, dust and fume. So a long promenade circulating the entire lake was developed .The road was again decorated with deep pine that created a beautiful shadow covered road around the lake and various meeting points facing the pristine beauty of the lake. On the bank of the lake slowly came up establishments that were truly English. Luxury hotels, café, cinema hall, church, book shops, boat club and football ground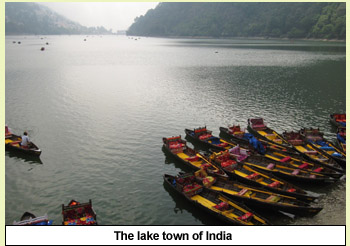 etc all gradually developed there by giving a final finishing touch to a newly formed British hill retreat with several lakes. From it's inception to till 1920s Nainital was a pure British lake town and soon after that rich Indians started to buy properties and started settling here.

The first church of Nainital was St Jhon's Church in the wilderness. It was set up in 1844 and named by Bishop of Calcutta for it's atmosphere around.

The 2nd oldest church here is Central Methodist church that came up in 1854.The biggest church is St Francis church or popularly known as lake church came in 1868.It was badly damaged in 1880's landslide and again rebuilt in 1909.

On the bank of lake there is Capitol cinema hall set up in 1941 where Europeans and Indian royals used to meet for watching movie or for any other social gathering, The cinema hall was in running condition till near past and now closed for some technical issues.

Near to cinema hall is Boat House Club another pure relic of British aristocracy. The 19th century club that still very particular and strict to allow new membership is decorated with vintage furniture and game equipments. Founded in 1897 as one of the oldest boat club of India it has several incarnation till 1947.A pure European club in colonial era still has a majestic presence on the bank of lake and still offers plethora of water games to it's members.

One will know Nainital only half if he thinks only mythology creates legend here.

The jawfalling fact is that even human propaganda also creates legend. One such legend is China peak one of the spot where hundred rush everyday to enjoy nature. It is believed that from China peak one can see "The Great Wall of China " in naked eyes. However it is hard to find a single person who can claim that he had indeed seen the great wall in naked eyes. Thanks to this blind believe that the great wall of China is visible from here the peak is now popularly known as China peak. It is this place at 8579 ft from where mind blowing Kumaon range of Himalaya can be seen on a clear day. If luck permits one can see Nanda Devi, Trishul, Nanda Ghunti and Nandakot from here. So there is little reason to be sad if Great wall of China does not appear even in it's most hazy form.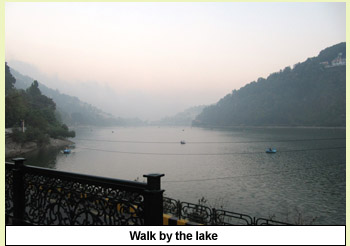 There is no dearth of colonial buildings in Nainital. From Rajbhavan to old hotels all still carry colonial testimony on the their face. The 1.5 km long Mall road carefully built as promenade was once decorated with captivating lake facing colonial buildings mostly owned by Europeans. Now with the passage of time many are destroyed and de-shaped for commercial purpose.The Raj Bhavan building can magnet anyone who loves colonial achetecture. Once the summer retreat for Governor of United Province the building is now residence of Uttarakhand Governor. The 113 roomed palace is now partly opend to public that houses a small yet interesting museum.There is a 18 hole golf course which can be used by public against subscription.

The heritage trail of Nainital will remain incomplete if a visit to Gurney House is not planned. The most famous citizen of this lake town was once used to live here. Jim Corbett the legendary hunter, author & environment protector was born made this Kumaon lake town as his home till the time he left India to Kenya for good. In 1947 this house was sold to an Indian named Sharada Prasad Verma by Jim's sister Margaret Winifired Corbett. Today that heritage house built in 1881 is converted into a museum that displays some of the rarest photos and articles of a living legend named Jim Corbett.The house is still under private ownership.

The heritage touch of Nainital is fast loosing it's steam. A large part of it is now over populated and wrong handling of it's tourism have killed the old days charm. In summer of 2016 Govt was compelled to stop people visiting Naintital as there was no space to park any car. There is massive encroachment on it's lake side road and water is badly polluted.

Still legacy of Jim Corbett, English painter Dorothy Kelley and it's founder P Barron are mingled in the history of Nainital. It's gradual decline as a heritage lake town of India will imprint a scar on the face of our history.

Sadly to assume that our colonial rulers who once thought this country as their own will curse us from their graves for this unpardonable sin.


This article was published in The Pioneer on November 2017

Click here to view the original article