| | |
| --- | --- |
| NETARHAT BEAUTY BEHIND THE CAVERN | |
Netarhat is a place so beautiful that even the British felt the need of keeping it hidden, writes Somen Sengupta.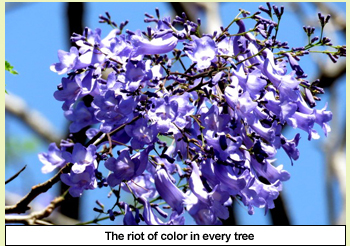 As the calm and almost underpopulated road is taken on the way to this destination, one tends to wonder, "Is it Netarhat or nature hut?" But, well, as William Shakespeare famously wrote, "What is in name?" Half the magic of this lesser-known, colonial hill station in Jharkhand lies in its underexplored beauty. A 156 km-long drive that takes one to this hidden gem of Chotanagpur plateau situated in Satpura hill range of central India. At the last stage of this travel, the car scales the height of 3,622 ft, crisscrossing black metal roads. It runs inside a deep jungle of pine, bamboo, mahua and saal. There, one can see a green jungle on looking out of the car window. Long, brown carpets of dried leaves rolled out on both sides of the road can also be seen. If one discounts the sound of the engine of the car, then the only other sound one can hear on this path is that of the wind blowing through the forest or of dry leaves being crushed under one's feet. If the time of the journey is February or March, one also gets to see blooming red palash flowers — the state flower of Jharkhand. No wonder that this place was called the 'Queen of Chotanagpur'.


Nestled inside a deep and dark shadowed forest and surrounded with green hills, this place is mesmerising. For a backpacker, this is perhaps the picture that dominates his/her dreams. For someone who wants a break from the kerfuffle of an overcrowded city, Netarhat is the place for nirvana. And for someone who wants to witness nature in all its colourful beauty, this is like passport to paradise.

Hidden inside one of the most primitive yet pristine forests of the Chotanagpur plateau, Netarhat as a small hill station became so dear to British administrators that they did want everyone to know about it! They wanted to retain the primitive element in beauty of this place. So, they never allowed any commercial establishment to come up here. Even today, accommodation and transportation facilities in Netarhat are very basic. For those who are tired of a world dominated by technology, the best part about Netarhat is that no mobile tower gives any signal. So, once one is here, he or she is truly in the lap of nature, and can rest without any interference from the digital world.

In early 1930s, the Palamou Tiger Reserve was created adjacent to Netarhat. That indirectly protected this place from population explosion and ugly urbanization. Except for a huge residential school named Netarhat Public School which was established in 1954, till today, the environment around Netarhat is pure and almost extraordinarily intoxicating.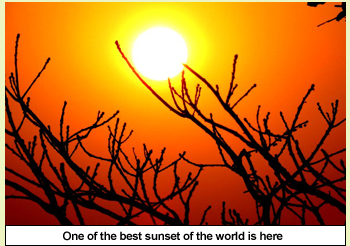 In undivided Bihar, when Ranchi was the summer capital, the British often used to take a break from city life by driving 156 km up into hills to relax their body and soul in the forest bungalows of this place. They never disturbed the ecological balance of the place by making it commercial. In the whispering woods of saal, pine and palash, the wild forest and its original habitants — both human and sub human — used to co-exist in harmony.

The dense solitude of the place was a grand source of peace and a strong reminder of the Scottish moors for many of them. It was the time when this place was probably named by them as 'nature hut'. There is a chance that nature hut was distorted to Netarhat. However, some locals also argue that it was once a market for a bamboo which is called neta in local language.

The story a colonial hill station can never be complete without a saga that has tragedy mingled with romance. In this hut of nature, too, a similar legend lives. According to that legend, a British girl named Magnolia was once in Netarhat. Her passion for the musical appeal of flute played by a local, tribal boy soon grew into love. This was unacceptable to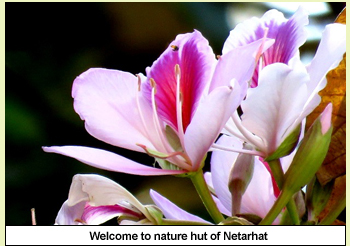 the society of her times. Tired of repressing her feelings, she committed suicide by jumping off Batua Tola, a cliff in Netarhat, along with her horse.

The place where she committed suicide is also the point from where tourists go to witness a dazzling sunset over the horizon of the plateau. This is now called the Magnolia Sunset Point. A marble plaque situated at this place tells the love story of Magnolia. It also has a statue of the horse facing the valley. It creates an aura of melancholy. In twilight, when the sun goes down the hill overlooking the deep dark forest, the sky is decorated with a splendor of magical color. The sea of saffron engulfs Magnolia Point every day and reminds one of a love that never saw a happy ending.

A river flows here that resembles a heavily ornamented lady. It is known as River Koel. Originating from a small village named Tutuapani, the river runs through the jungle with rocks and pebbles on her chest. Its sand banks are virgin and isolated. Like Magnolia Sunset Point , the banks of Koel also shine in sunset with a riot of colors. From azure to deep crimson, the water of Koel changes its color with color of sky. On a full moon night, the river looks its best.

Netarhat is also believed to be the place with one of the best 'sunrise points' in the world. Here, the sun comes like an empire and within a few seconds of its entry over the horizon, it gives an impression that makes it seem like it is conquering the landscape. With its advent, every tree lights up with the sound of chirping birds and a new day breaks in. At Netarhat, one almost wishes they had a pair of wings so that he or she could fully enjoy the eternal serenity of this place. Here, nature rests in a cozy hut and allows the visitors to sink into its charm.



This article was published in The Pioneer on 22nd July 2018

Click here to view the original article