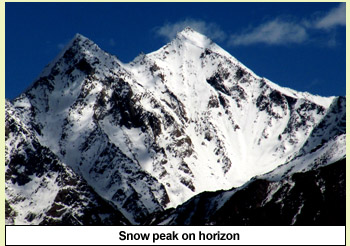 Standing on the silver sands of the snow desert of Hunder, I was trying to solve a difficult puzzle. It was ruthlessly challenging my little knowledge of Geography – a subject I never studied after school.

At Hunder, I was not able to match my general visualization of a desert. Every single thing was a surprise. The moving sand dunes, the blackish silver sand, brown rocky horizon and double hump camels – all put together, they were making my ideas all confused at this corner of Ladakh.

An unforgettable journey started in the morning after crossing the raw beauty of nature amid mountains. Finally after traversing 150 kms, the valley of Nubra was scaled. At Nubra, panorama changes fast. The sky turns from grey to blue as soon as the sun moves up and the snow covered rock bed shines like polished silver.

Before arriving, we stopped at a height of 18,360 ft and I started feeling uneasiness in breathing. Soon, I found a few drops of blood oozing from my nose. It was a reminder that the harsh climate of Ladakh is brutal to most.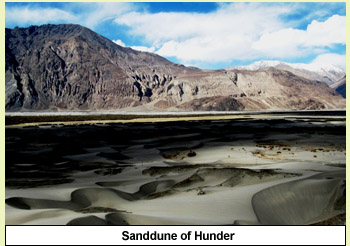 At such a height with almost zero vegetation, the air is deficient in oxygen. The driver asked me to drink plenty of water and I obeyed without argument. It worked!

We were at Khardungla Pass, which is known as world's highest motorable road. The bone rattling cold air was blowing like a storm. The army check post here provides free medical assessment of the amount of oxygen in one's body. Thankfully we had enough and were allowed to move onwards. From Khardungla, the majestic Kharakoram Range came into view. It is a kingdom of snow - mile after mail of white juxtaposed under an azure sky!

In the treeless valley of Nubra, a Buddhist monastery was established in 1420 by monks from Tibet practicing Vajrayana Buddhism. We were taken to Diskit where the monastery is situated. The ancient place of worship is bound to cast a magical spell on every soul. Inside, monks were chanting with prayer drums. The air was resounding with humming of the sacred prayer Om Mani Padmam.

One cannot miss the giant statue of Miatrayee Budha. The 32 meter-high colourful statue overlooks the valley like a giant sentinel. We climbed up the staircase to relax at its feet and there, found an unmatched panorama of the valley.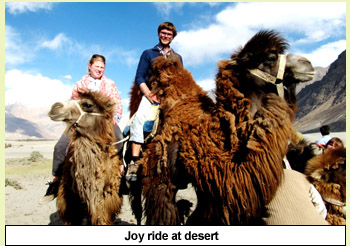 The statue again confused me. I was not able to match the statue of the Buddha in bhumisparsha mudra with this regal one. Here he is more of a prince than a monk and more of a warrior than an apostle of peace. At first glance I thought it was a form of Prince Siddhartha but my notions were corrected by a guide who explained that Maitrayee Jataka or Maitrayee Budha is the fifth Buddha who is yet to come!

Now for some history. Buddhism travelled to Tibet from India in a simple from. Years later it returned to India in a complex, which leaned towards the trantrik cult of Hinduism It was the time when Buddhism started allowing an open blending of incarnation theory and started believing that Gautama Buddha was fourth incarnation of a stream and the final Buddha would come to this world one day in form of Mitrayee Buddha. As a part of the route to Tibet, Vajrayana Buddhism had tremendous influence in the Nubra valley and this massive statue is a testimony of that cult.

From there, we landed at Hunder - the snow desert of Nubra. A thousand years ago, it was part of the Silk Road. The legendary trading route connecting Eastern Tibet's Xinijang with Turkistan used to pass through the snow desert. This unexploited paradise was the place where many dreams were shaped under the extreme harshness of nature.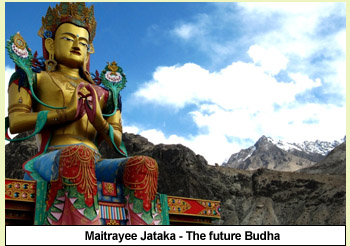 The double hump Bactrian camels, which now provide joy ride to tourists, was the only mode of transport then. On the back of their forefathers, loads of cargos were once transported from one land to another.

Erosion has left peerless natural design on the brown rock face, which look like buds of lotus from a distance. The evening sun was gently gliding across the river Shyok at a slow pace – the water and sands were shining like broken pieces of glass. Astonishing, though it may sound, the fact remains that with the wind, the sand dunes were also moving.

We were camping that night. The tent was well furnished with a bed, carpet and blanket. The common room was remarkably clean. Soon a fire was lit and steaming cups of hot coffee and mouthwatering refreshments were served. A star – spangled sky in a snow desert with visions of the ancient Silk Road danced in my mind's eye. It was experience beyond words! It was full moon and the breathtakingly beautiful sky was exceptionally clear – every blade of grass was bathed in the moon beams.

Next morning, it was time to bid goodbye to Nubra. As we were making our way back, the driver told us about a village called Baigdandu. Apparently the people there have Caucasian features as rumour has it, some Greeks came to Kashmir in search of Jesus Christ and stayed back. I couldn't visit the place but a thought certainly occupied my mind. Nubra is unlike any other land anywhere – it has the world's highest snow desert, double hump camels, stories of the Silk Road and even a historical story of Greeks!


This article was published in The Statesman Festival number on September 2017

Click here to view the original article