Situated in Purulia, the land of temples, Pakbirra came into the limelight when a plethora of antiquities related to Hindus and Jains unfolded many archaeological facts, writes somen sengupta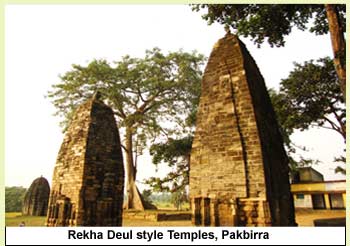 From 8th century BC, Jainism was gradually influencing the religious bent of mind of people, especially in eastern part of India. Purulia was blessed with the visit of the 23rd exponent of Jainism, Tirthankara Parashawanath. The 24th Tirthankara, Mahaveer too visited this place after him. Needless to add, these visits created such an impact in Bengal that for sometime Jainism became a dominant way of life over Hinduism. Since the time Archaeological Survey of India was founded, initiatives were taken to explore hidden treasures of the era; this was extensively done in Manbhum district of Bihar.
Purulia was then part of Bihar. Pakbirra, situated about 56 kms from Purulia town came into the limelight when a plethora of antiquities related to Hindus and Jains were discovered along with five temples with unique shape. The discovery of dilapidated temples and images were testimony of a way of life that had vanished several hundred years ago.
More than 100 years ago, Pakbirra was an open archeological gallery, housing several temples and innumerable Jain statues. Today, after utter neglect and infighting between Hindus and Jains, only three temples remain standing while several priceless statues are turning to ruins under the open sky.
.
J D Beglar (1845-1907) one of the pioneer scholars of Indian archaeology started to explore the place and what he found was quite amazing. In (1872-73) when he started exploring the place, there were only five temples remaining out of 21. Now over the years, only three remain and all are in a dilapidated condition. The material used is a greenish chlorite stone, which is found in abundance in the area.
All the temples are built in 'rekha deul' style of Odisha school of architecture. In first temple, the entrance is built like a chariot with a corbelled entrance. The second temple also faces north while the third faces east. .
In his report published in 1878, Beglar did a remarkable job by documenting the monuments, debris and images found in this part of the country. The most significant excavation treasure from Pakbirra was a 7.5 ft high, Mahabahubali statue, which is quite uncommon in north India. Some scholars are of the opinion that this is a statue of the 6th Tirthankar of Jains named Padmaprabha.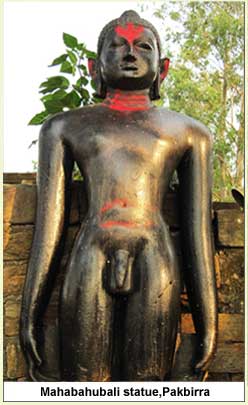 The excellent piece of art is now worshipped as Hindu God, Bhaironath. The colossal figure stands on a lotus. As it is now worshipped as a Hindu God, the forehead and feet are full of oil and vermillion and a trident placed next to him.
The temple that housed this colossal statue is long gone. JD Beglar presumed that the temple was on the western side of the complex. However, there is no sign of that temple today. In his report Beglar mentioned, "the temple which enshrined the colossal figure must have faced west; it was very large, containing the full complement of preliminary chambers & hall in front of the sanctum".

Today we find eight more statues placed side by side to the big one. They are of Parasanath, Mahavir, Padmavati and Rishavdev. Three of them are with the bull symbol indicating they represent Rishavanath, two with lion symbol indicating them to be Mahavir, one with horse symbol for Sambhabanath, one with lotus symbol indicating it is Padmaprabha and one with half-moon indicating it to be Chandraprabha. Apart from the two images of Yaksha and Sasanadevi, one Badhra deul and one unknown Hindu deity with four hands are also seen here.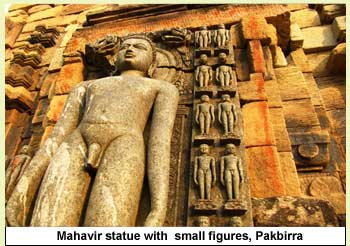 There are many ancient statues in Pakbirra, which lie half-buried in soil. Almost all flaunt excellent sculpture and scholars are of the opinion that some are 1200 years old. The plethora of such fine statues clearly indicates that these were all external decorations of temples. This also indicates the potential of discovering a huge archeological treasure here if properly excavated.
One of the amazing discoveries of Pakbirra is a flat black stone sculpture on which 14 rows of figures are carved; every row has 24 figures, signifying 24 'tirthankaras' and at the top is a figure seated cross-legged
The top left of the flat stone is broken and half of the figures from the first three rows have disappeared with time. This slab is on the outer wall of the first temple and is very striking.
On the side wall of the second temple, the finest statue of Pakbirra can be seen ~ that of Mahavir. The upright figure is decorated with 12 small figures on each side, again indicating religious exponents of Jainism. Although the top of one corner is broken, the statue still exudes a mystic charm.
There are two small figures at its feet while two other such figures with garlands in their hands are at on the top. Unlike the bigger statue of Mahabahubali, eyes of these statues are shut and the face has strong resemblance to a Buddha statue. And it looks quite haunting.
There is no doubt that scientific excavation of this place can lead to wonderful discovery but very little has been done so far. In fact, after Independence, no big project was taken by the government to explore the place.
Access
Pakbirra is 56 kms from Purulia town and Purulia is a five-hour train journey from Kolkata. Trains like Rupashi Bangla, Purulia Express with AC Chair car facilities are available from Howrah station. There is no provision for accommodation at Pakbirra so visitors have to stay at Purulia where modest hotels are available. Photography is allowed. For more information, check out www.purulia.gov.in

This article was published on 13th May, 2012 in The Statesman

Click here to view the original article