Although Terracotta art made great waves in Bankura, Burdwan and Hooghly from the middle of the 15th century, not too many examples of this art are seen in Nadia district, except for the famous Mustafi Bari temple of Birnagar. The district, however, does have another speldid pora mati structure – the relatively unknown but century-old Palpara temple.
This is a largely ignored masterpiece, with very little written history. There is not even a plaque or inscription to give a specific date about the time of its foundation or the name of its founder. However, that does not diminish the attraction of its majestic and isolated presence.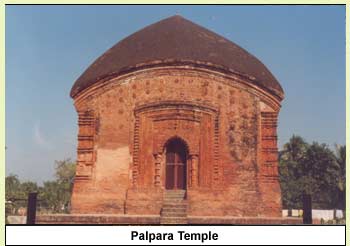 After the birth of Chaitanya Mahaprabhu, the Bhakti movement in Bengal gave birth to several temple all over the state. The temple at Paplara, it is believed, was constructed by Raghab Roy, a member of the royal family of Nadia, sometimes, this is a theory disputed by many others.
The temple, 12 meters high, is made of red bricks. Built in the typical ekchala style of Bengal school, the temple has its front marked by excellent terracotta craft, which mainly describes various episodes of Ramayana. The corners are decorated with small arches. The wall carried various Hindu motifs like the charka, bell and conch shell. A plethora of floral motifs in the form of small terracotta artwork are on the walls. The most exceptional is the dragon motif, which is a rarity in Bengal. Historians are not sure about the influence of this.
At present, no deity is worshipped at this temple. It was a deserted place till the Archaeological Survery of India found it and began to preserve it. Today, the temple stands in a fenced garden within a small sign board giving at least a hint of its historical to those who suddenly stop here.
Tourist Info
Palpara is a small station in Nadia, coming before Chakdah. It is about 90 minutes ride on the train. Explore the place on foot, ot hire a cyclerickshaw from the station to take you to the temple. Being a small hamlet, Palpara is good for a say trip but not overnight stay. It is best to carry your own food and water.


This article was published on 6th April, 2004 in The Hindustan Times

Click here to view the original article