The, Small town of Pandua in Hooghly is only 65 km from Kolkata, but the historical significance of the place is almost forgetten. A trip to Pandua is like a journey into the chequered past of Bengal.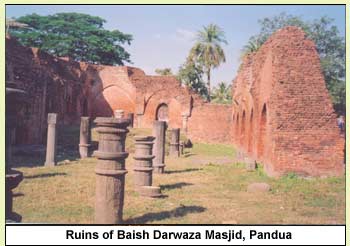 It was on August 15, 1854, when India's second train pulled into this little town from Howrah Station. Prior to that, Pandua had lost out on the cahance of being the first to welcome East India Railway, as the engine coming from England was shipped to Australia by mistake and in this time gap, Bombay and Thane became the first places in India to be connected by rail. A marble slab at Pandua station commemorates the historical day.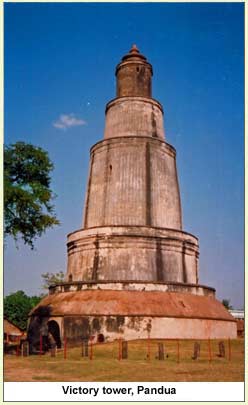 The history of Pandua starts in the 14th Century, when the western part of Hooghly was ruled by the Hindu King, Pondu. This monarch was vanquished by the Muslim invader Shah Saifuddin, who demolished temples to raise mosque in their place. One such mosque was the Baish darwaza Masjid (the mosque with 22 doors), built between 1330 and 1340. The ruins of this shrine still tands in Pandua.
Near this mosque is Vijay Stambha (victory tower), the talles tower of Bengal built in 1340. The five storeyed, 136-ft tower was once a sacred place for Hindu. Legend has it that the Jagannath Temple of Puri was once visible from the top of this tower. In 1886, the tower suffered great damage during an earth quake. Eleven feet of it sank into the soil. This piece of architecture is said to be the oldest historical monument in Bengal. It is also a mark of Hindu-Muslimharmony, as every year a month-long, all-community fair is organized at the tower.
How to go
Pandua is about tow hours away from Collate by any local train from Howrah. As there are no good restaurants, carrying food and water is advisable.