Cold and green in the small village of Paren in Darjeeling Hills, silence of the nature rules the world, writes Somen Sengupta.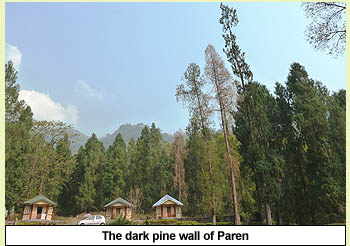 Before returning to their nests the small birds land on the edge of the building wall to rest their wings. After a long silent day the birds are perhaps exhausted but their rainbow colored back over which the sun rays glistened made them look beautiful.
On the horizon, dry leaves were falling from tall trees & dew drops were kissing the blades of grass.This is no ordinary place.This is Paren in Darjeeling.
Even a decade back this village was unknown to the world but today thanks to some fair planning Paren is gradually becoming popular as a place for enjoying solitude.
The deep green jungle and the blue sky makes Paren looks serene.The small village of Darjeeling sinksinto deep silence as soon as sun sets and the sound of the cricket takes over the night. And in that magical moment a steaming cup of tea is possibly the best companion for the tourist in the guest house.
People claim that one does not need to be a honeymooner to enjoy the beauty of paren. One just needs to be a lover of nature to enjoy this beautiful place.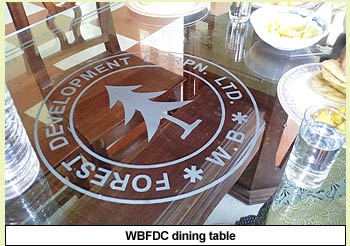 West Bengal Forest Development Corporation ( WBFDC ) provides decent accommodation facilities and food in the Paren. Passing through the green forest of north Bengal Chapramari wildlife sanctuary and the narrow road on which elephants pass in every now and then , takes one to Paren from Siliguri by car.
This is a car ride where you enjoy to the full the beauty of Dooars and the fresh air of Himalayan foothills.By lunch time , one enters Paren.

The four wooden cottage made by WBFDC are the only accommodation available at Paren.It is advised to book the cottage from Kolkata and not risk being roofless at Paren after reaching there.For there is no other shelter for tourists in this place.
The cottages are simple yet proved with all amenities.Hot and cold water are supplied.Though the fare for the lunch and dinner are limited but it is tasty and healthy.So is the breakfast. A typical breakfast compromises tea, puri,alo sabzi and eggs. " There is no mobile signal in Paren most of the time. Do not blame the administration.if there is no power for hours. Nights are long and chilly.It is the kingdom of silence" said a tourist.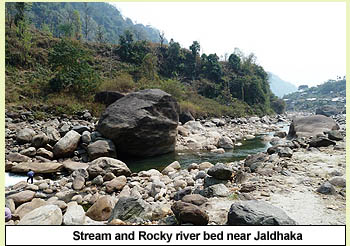 The mornings are misty with cold winds blowing across the place. The temperature in Paren falls drastically at night and through out the day it is cold.

" At the back of the WBFDC complex is dark deep pine jungle. When the wind blows the sound of leaves and songs of the birds create a symphony. The clouds seem to touch the tree top and dew drops drench the grades flowers and bushes." Says a tourist.

The village nestled on the green lap of lower Himalaya constantly produces a soft whisper of falling leaves from tall pines and if you love watching birds then Paren is the place.

Be prepared with your camera to capture rare Himalayan birds like scarlet minivets, blue throated barbet, silver eared mesia, black chinned yuhina and many more who often pay a visit. Also do not miss the colorful butterflies.

About 10 km from Paren is Bindu or Jaldhaka.There is a hydel power station here and the border of Bhutan is visible from this place.Another location is Godak just 15 km from Paren. This beautiful village has a small river and rocky landscape.For adventure enthusiasts a trekking in Rechela pass is suggested but if you are in Paren you need not to do anything else but just sock into the solitude of the place.

Not more than 100 people live in Paren and the only sound that breaks the silence of the nature is the speeding jeeps carrying tourists from the plain to the hills.


How to visit Paren :

. Take a car from Siliguri.
. Paren is just 112 km from Siliguri town.
. Book West Bengal Forest Development Corporation cottage in advance from Kolkata.
. Check availability in www.wbfdc.com
. Trekking should be done with the help of local guide.
. Jaldhaka a hydel power station is just 10 km from Paren from where the border of Bhutan is visible.
. Stay alert of bird watching.
. Do not forget to take your camera.




This article was published on 29th February 2016 in The Hindustan Times.

Click here to view the original article