Nature and history, both ingredients of a perfect holiday, peacefully coexist at Raichak. This getaway is all about the breathtaking panorama of the river and a recreated British fort.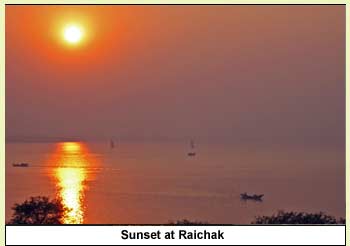 There is not much else of tourist interest at Raichak. It is the right weekend destination for those looking for solitude and relaxation. Not even two hours from the city, this retreat by the river is almost an enlarged picture postcard.The Hooghly here is wide and vast, the bank verdant with trees. Some portions, however, are muddy and treacherous. The luxury resort constructed along the lines of an 18th-Century fort looks almost magical against this backdrop.The structure has been constructed in the Anglo-Indian style that is hardly seen nowadays. The recreation was the handiwork of architect Prabir Mitra. The bricks used were brought from the demolished State Bank of India building on Calcutta's Strand Road.
Like in an actual fort, a moat runs around the structure. The grand arches, made of the old bricks, and the huge wall facing the river lends authenticity to the look. The resort has been given a fictional history to make it more exotic. The account dates back to 1783, when a General Watson of East India Company was supposedly despatched to the citadel along with wife Mary, daughter Carolina and 65 soldiers.
Some memorabilia of the period is exhibited inside. This includes a grand piano, glass perfume bottles, a clock and a sword. There are some photographs that have been retouched to give them a dated look. According to the history invented for the fort, it was abandoned at the beginning of the 20th century and was reduced to a rubble by Japanese bombing during World War II.
The magic of the river and the sky is more captivating than this account. The sky is a slate wiped clean, while the river flows gently. The lapping of the water on the bank at high tide is almost musical. Rows of country boats can be seen sailing down as birdsong fills the air. Take a boat ride in the morning. Afternoons are ideal for a walk along the bank. The beautiful sunset is best enjoyed from the terrace of the fort or the river bank.
The sky becomes a riot of colour as the sun goes down, turning the river into liquid gold. The scene is beautiful enough to justify the trip.
Going
Raichak is about 50 km from Calcutta. It takes around 90 minutes to get there by car. There is no rail connection, but buses are readily available from the city
Staying
The Ffort Radisson is the most prominent hotel (03174-275444). Since it owns the 'fort' , the right of admission is restricted. However, those not staying at Ffort Radisson can enjoy buffet lunch and dinner there.Bargain hard while hiring boats. You can visit Haldia, which is on the other bank of the river. Another well-known tourist spot, Diamond Harbour,is quite close to Raichak. Stay a night if you can. But it is quite possible to pack in a quick trip in a single day. Apart from Ffort Radisson, there are other standard hotels. Arena is one of the options

This article was published on 23rd April, 2006 in TheTelegraph

Click here to view the original article