North Bengal is an ideal getaway for those wanting to escape the bustle of the metropolis. Hills, forests, historical monuments, temples and, last but not the least, wildlife have made the region a tourists paradise. Few are aware that the region has two bird sanctuaries in different districts - Raiganj in North Dinajpur and Rasikbil in Cooch Behar.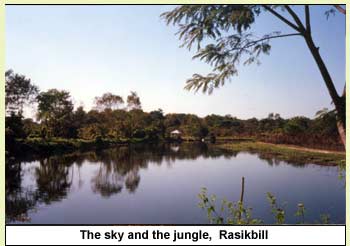 The latter is unique for several reasons. For one, it remains unspoilt by large numbers of tourists. Situated around a huge lake with a wide variety of avifauna, it is a great spot for eco-tourism. Its picture-postcard scenic beauty is breathtaking.
Rasikbil is a waterbody spread over an area of 175 hectares and surrounded by three dense forests, known as Nagurhaat, Bochamari and Atamochar. They are parted by a small canal called Batikata.
In the past, the area was a hunting ground for members of the Cooch Behar royal family. So, at one time, the forests were full of wild animals and birds.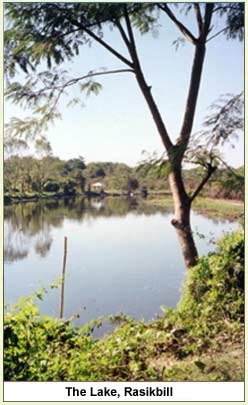 The beauty of Rasikbil is evident wherever you go ? into the forest, by the lake or in the park. The forests are deep and dark, with trees like sishu, kadam and minjuri.
The lake is a perfect contrast against the green forest in the background. A plethora of sweetwater fishes is found in the lake. Two very popular varieties of north Bengal, the borali and the kutiputti, are also found here.
A bridge over the lake adds the finishing touch to the picture. Boating is the best way to enjoy the lake. A ride in a paddleboat is like being in the arms of Mother Nature.
The most popular tourist spot in Rasikbil is the bird sanctuary. The lake and adjacent forests are home to innumerable rare birds. The sanctuary is becoming a very attractive destination for nature lovers.
Rare birds like cormorants, storks, ibises and spoonbills, and common birds like kingfishers and parrots can be spotted around the lake. There is a watchtower especially constructed for a better view of the birds. Try the recently opened Nature Study Centre, which provides details of the birds seen in Rasikbil and their photographs.
On the banks of the lake, visitors can enjoy another kind of entertainment. A park with more than 50 deer is a nice place to relax. Recently, an aquarium with rare fish and a small crocodile rehabilitation centre were also made part of the park.
The beauty of Rasikbil even attracts film-makers from Bollywood. Shah Rukh Khan and Sushmita Sen were spotted there some time ago, shooting for Main Hoon Na.
Those planning an overnight stay and those who love history must visit the nearby Baneshwar temple, as well as the royal palace and the Madan Mohan temple in Cooch Behar.




Going:
Rasikbil is situated one-and-a-half hours from a town in Cooch Behar district called Toofanganj. From Alipurduar, it is 74 km. The nearest railway station is New Cooch Behar, 35 km away. Cars are available for hire at the station
Staying:
The state forest development department has a lodge with cottages and a 16-bed dormitory. Bookings can be made from the office at 6/A, Subodh Mullick Square (Ph: 22370060/1). Another option is Nagurhaat Waterland Resort. Contact the district forest officer in Cooch Behar to book rooms here. The zila parishad has also opened a budget hotel