Rishop is a sleepy village in the Darjeeling district that offers a grand view of snow-capped Himalayan peaks. Only about 9km from Lava, it is perfect for a quiet getaway in the lap of the mountains.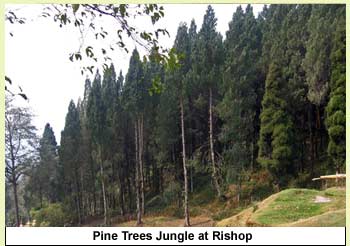 In the local language, "Ri" means mountaintop and "shop" means an old tree. The striking thing about the hamlet is the serenity that engulfs it. There's a feeling of being one with Mother Nature. The only sounds you will hear are birdsong, gurgling of a mountain brook and the whistling of the wind amid pine trees.The village offers some of the best views of some of the most majestic Himalayan peaks. The Kanchenjungha is the most well-known among them. The other peaks that can be seen from Rishop are the Kharg, Rathung, Kokthang, Kabroo, Pandim, Talung, Simvo and the Siniolchu, apart from several nameless ones.
Before daybreak, arm yourself with a camera to capture the first rays of the sun kissing the clouds and bathing the Kanchenjungha in pink and orange.Irrespective of the season you choose to visit, Rishop is a riot of colours, thanks to innumerable flowers and multi-hued butterflies.
The village is a favourite with trekkers. Those who love to walk can trek to the Clock Square in Lava. The road runs through a forest of pine, birch, fir and orchids.Tiffindara, the hilltop, is a shorter walk away. It offers a breathtaking view of the Kanchenjungha. If walking is not your cup of tea, you could even take a jeep to Tiffindara.
As daylight fades and darkness descends on the hills, the stars light up the sky one by one and lights come on in the houses in Gangtok and Pedong.Sit by a wood fire, dig into chicken soup and momos and enjoy the starry, starry night.
Going
Take a train from Howrah or Sealdah to New Jalpaiguri or a flight to Bagdogra and hire a car from there. Rishop is a four-hour drive from New Jalpaiguri. Buses also ply between NJP and Kalimpong. From Kalimpong, Trekkers are available to Rishop.
Staying
There are several hotels in the Rs 500- Rs 2,000 tariff range. It is better to book in advance. March to May and September to November are the peak tourist seasons.

Header Picture Courtesy : Pallab Adhikari