How many of us know that there is a little Denmark at our door-step?
Not many of us are aware that the new awakening of modern India began from a small town situated a few kilometers from Kolkata.A trip down the Hooghly can take you to Srirampur where the first modern university of Asia was set up to light the flame of wisdom in thousands of Indians caught in darkness and superstitions.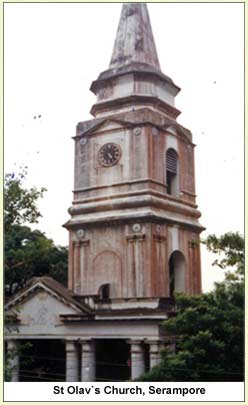 Modern India started it's journey from Srirampur in early 18th century. A giant institution, a historical press and a legend named William Carey gave this town its place in history.Earlier known as Akana, Danish traders got the area from the Nawab of Bengal Ali Verdi Khan in 1755. The city was renamed as Fredericsnagar after the Danish king Frederic-V. The new name did not click.
Danes were mostly traders of cotton and silk textiles. Unlike their English, Dutch and French counterparts, they were a peaceful group and had no political ambitions. Denmark being a neutral state during Europe's gory days, the Danes were able to win the confidence of Britons, French and Portuguese traders operating on Indian soil. All this helped Srirampur become a major trading point.
The Srirampur College helped the light of Asia spread far in the early 18th century.The Institution acquired prominence in the academic world and its name spread far and wide as a centre of excellence.
The massive building, with grand pillars and matchless portico, was completed in 1822 at a cost of Rs 1,50,000.In 1827, King of Denmark Frederic-VI gave permission to the college to offer a degree in Theology. It was a time when no institution in Asia awarded degrees in higher studies.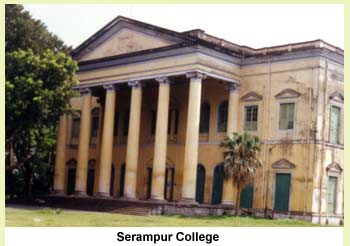 The college was the place from where India saw the revolution in printing.From 1800 to 1834, Carey and his followers translated Bible in 33 different languages which included Avadhi, Marwari, Baluchi, Multani and others. Some historians opine that modern Bengali script was also invented here and one Panchanand Karmakar carved them in metal type for printing. The first Bengali book title "Raja Pratapdaitya Charit" was also printed from Srirampur press. Soon Carey compiled dictionaries in Bengali, Marathi, Punjabi, Telegu which were published from Srirampur.
On 13th May 1818, India's first vernacular paper in Bengali named "Samachar Darpan" commenced publication from here. Along with that, the English newspaper Friends of India was also published from Srirampur. This missionary press of Srirampur was Asia's first multilingual press.Ninety years of Danish rule ended in 1845 when England purchased the town from Denmark for Rs. 1,20,000. Another attraction of the college is William Carey Memorial Museum. It has rare manuscripts, documents, coins, letters and articles used by Carey.