About 100 km from Calcutta, Shantipur is a small town in Nadia district that occupies a prominent place in Bengal's cultural past. If you like wandering among temples that smell of incense and history, a visit to Shantipur can be rewarding.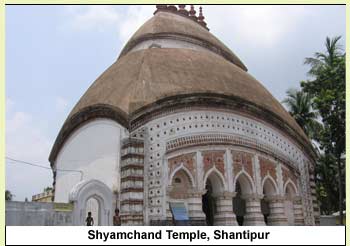 The town is known for handloom (taant) saris. If you happen to come by a local train from Sealdah, you will see several billboards of saris at the railway station. There are plenty of shops in Shantipur dealing exclusively with saris, but an arrangement with a rickshaw-puller — which should not exceed Rs 20 — can take you on a daylong trip to local workshops where you can see these drapes in the making.
Saris that sell for Rs 2,000-plus in Calcutta, can be had for less than half the price if you are good at bargaining. And you can make bulk purchases as these handloom houses often provide free transportation to your home.
In the 17th Century, Shantipur caught up with the tide of the Bhakti movement. Like Nabadwip and Mayapur, Shantipur became a hub of the movement. Three prominent figures of the Vaishnava movement — Chaitanya Mahaprabhu, Adwaita Acharya and Nityananda — met here.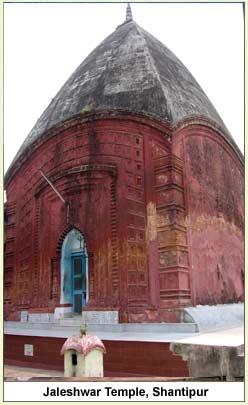 The town is dotted with old temples. The largest of them is Shyamchand temple in the Burrabazar area. The structure is 110 ft high and 68 ft wide. The temple, in the aatchala style of the Bengal school, was built in 1726 by a rich merchant named Ramgopal Khan Chowdhury at a cost of nearly Rs 2 lakh. The idol inside is made of black stone. The king of Nadia once headed the temple committee. There are five arches, decorated with small lingams, in front of the temple. Very few of the terracotta motifs are left. The limestone artefacts, however, are in good condition.
Jaleshwar temple at Motiganj in Bejpara is another attraction in Shantipur. It is one of the finest terracotta temples of Nadia. This charchala structure is similar to the Diknagar temple but is bigger in size. According to sources, the mother of Ramchandra, son of king Rudra of Nadia, built the temple. It was once known as Raghaveshwar temple. Its name was changed to Jaleshwar towards the end of the 19th Century by Bijaykrishna Goswami. The east and south walls of the temple are decorated with terracotta sculptures depicting social and mythological scenes. There are many beautiful figurines of Krishna and Radha. The other two walls are bare.
Holi, Raas and Janmashtami are celebrated with fanfare in the town. Shantipur Museum, housed in the second floor of the municipal library, is a must-visit. It has a wonderful collection of Sanskrit manuscripts.
Trip tips
Shantipur is well-connected by rail and road. The roads in the town are narrow, so drive carefully. Night stay is possible at the municipal guest house. Shantipur Museum is closed on Monday
This article was published on 10th June 2007 in The Telegraph

Click here to view the original article