If you are caught up in the claustrophobic chaos of a polluted city,Sonamarg is the perfect place to recharge ,writes Somen Sengupta.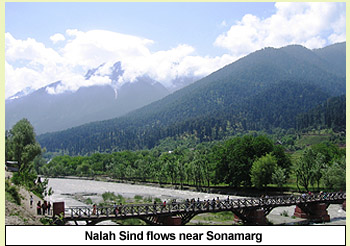 AIn Kashmir's Ganderbal district, National Highway-1D runs almost parallel to the Nallah Sindh river, the biggest tributary of the Jhelum that lies in Pakistan. The area is enveloped in the deep shadows of pine and oak and in the divine ambiance, a soft cool breeze blows from the mountains around while the resonance of water constantly breaks on stone boulders in riverbeds to add a mystic symphony. In such a setting, everyone travelling the road in these parts unquestionably reaffirms the age-old saying about Kashmir being a paradise on earth.
That said, a hill retreat almost 87 km from Srinagar named Sonamarg could qualift as nature's own kingdom of beauty that invites the individual to experience a feel of heaven. Situated at 2,800 metres above sea level, Sonamarg is a alpine covered valley with a carpet of snow that stretches for miles and reveals its celestial elevation to every visitor. If Kashmir is on your agenda then an escape to Sonamarg is a must, even for few hours if not a whole day.
One needs to start early from Srinagar to reach this "meadow of gold" or "Swarnamarg" as the place was known before the Mughal invasion. Over time, the name changed to Sonamarg, meaning much the same. As legend goes, there's a secret well hidden somewhere in the valley that contains golden coloured water and from which the valley derives its colour when the rays of the sun strikes the snow-capped Himalayan peaks.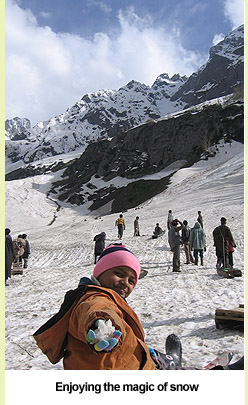 The Himalayas stand here at their pristine best. Two glaciers, Kolhoi and Machoi, and several other renowned peaks like Sirbal, Amarnath and Kolhoi, are like loyal dedicated sentinels at the palace gates. Sonamarg is not an easy destination, certainly not a place to visit at any point of the year. Snowfall is so massive here that there are still hardly any permanent dwellers. There are fewer than 400 residents yet people from every corner of the globe come to enjoy its splendid beauty.
The place becomes inaccessible in winter and opens for tourists only from April to October. Even during summer, Sonamarg remains covered with snow almost everywhere and that makes it even more beautiful. The motor-able road to the place ends at the bottom of the cliff and after this the only mode of transport is on ponies.
In peak season when tourists flock here, hundreds of eager vendors badger them to buy their goods and, needless to say, tough negotiation is needed. After crossing a breathtaking slope covered with a patch of fresh grass, the world opens up like God's own palette. The sky sports a shade of deep blue whereas the grass is deep green. Over the horizon, the giant mountain peaks covered with milky white snow complete the magic. There are provisions for camping and adventure enthusiasts who often pitch tents to enjoy the night sky.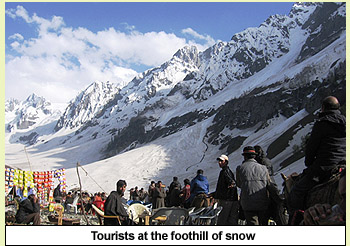 Once in the snowy part, there is a world of fun and frolic. For someone caught up in the claustrophobic chaos of a polluted city, this is the perfect place to recharge. At Sonamarg you can do whatever you want to unwind: walk, run, loll about, sleep, make a snowman or engage in a throw snowball fight. The place offers priceless moments you will cherish forever.

Manmade joyrides are available on the snow, with the locals renting wooden sledge carts one can take to the top and then slide down at high speed. Post-noon, the summer sun shifts towards the west, its golden rays setting the snow on fire. If you're a shutterbug, stay prepped.
If you're a gourmet with a penchant for exceptional fish-based fare, then Sonamarg is just the place. The rivers here teem with trout and mahseer. However, fishing needs special permission. If that is not obtained, one can opt for river rafting on the Nallah Sind, which is organised by Jammu and Kashmir Tourism. A night stay is generally not needed in Sonamarg if your day is properly planned. One can cover all the attractions and return to Srinagar by the evening — which is fairly advisable. This because the weather changes only too frequently here. Rain and sunshine alternately appear and disappear almost every 40 minutes. In winter, avalanches cause immense damage.

This article was published in The Statesman on 7th February 2016.

Click here to view the original article