If you think the Kali temple of Dakshineshwar is a magnificent edifice, then the centuries-old temple to the goddess at Sukharia will leave you spellbound. In this dusty, unknown village, at the confluence of the Ganga and Behula rivers, sits the Anandamoyee temple, whose marvelous terracotta architecture is said to have inspired the Dakshineshwar Kali Bari.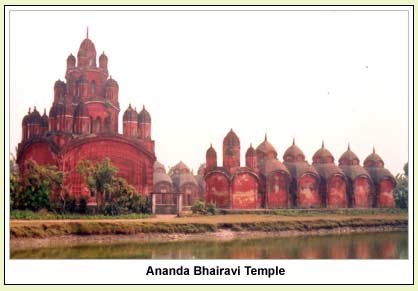 The exact year when the temple was built is not known. A plaque states that it was first repaired in 1764, so it may be estimated that it was constructed at least in the first half of the 18th century. Legend that Rani Rashmoni of Janbazaar, who had Ramakrishna Paramhansa as her family priest, was returning from Benares when she passed through this village. Moved by the beauty of the Anandamoyee temple, she planned her dream shrine on similar lines. However, the Dakshineshwar temple has only nine turrets, whereas this older temple has 25 turrets.
The oldest residents of this village are the members of the Mitra family. The family was founded by one Anantaram Mitra Mustafi, who came and settled here 500 years ago. Soon the family amassed a large fortune from its business as bankers to the local traders. As their wealth grew, they were elevated to the status of zamindars. Initially, the family deity was Vishnu but later they began to worship Kali. Bireshwar Mitra Mustafi, one member of this family, remained unmarried and worshipped Kali as his daughter. He was the man who built the Anandamoyee temple.
There are 10 smaller temples in front of the main temple. Eight of those are aatchala style while two are in the pancharatna (five turrets) style. Except the first, which is dedicated to Ganesha, the rest are dedicated to Shiva. These smaller temples have terracotta blocks that reflect the influence of the European culture sweeping through Bengal.Another temple, also very ancient, is the 500-year-old Kharosundari temple. This, too, has rows of small Shiva temples on both sides. Recently, the Birla family of Kolkata has helped with the preservation of this shrine.The Mitra family palace is one other attraction of Sukharia. Now rather dilapidated, it was at one time an excellent example of European architecture with its four Corinthian pillars in front. The palace has also served as the setting on many Bengali films, including Mrinal Sen's Akaler Sandhane and Buddhadeb Dasgupta's Fera.
How To Go
Take any train from the Bandel line from Howrah and get off at Somra Bazaar, 80 km from Kolkata, two hours by train. A cycle-rickshow from the station takes the visitor to the Sukharia Rajbari. Anandamoyee temple is right next to the palace. The other temples are within walking distance. Photography is allowed within the temple. Sabuj Dweep, a new tourist spot, is close by.
.