| | |
| --- | --- |
| NEXT WEEKEND YOU CAN BE AT ... SUPUR | |
It's a pity that many of us who frequently visit Santiniketan give the town of Supur a miss. Hardly 14km from Bolpur, it's a place where history and art converge — a perfect weekend getaway.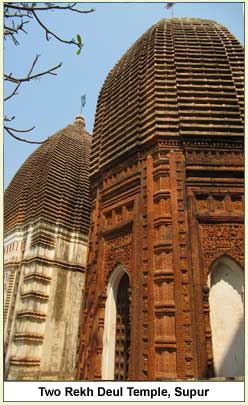 Supur, an otherwise nondescript village in Birbhum, is on the banks of the river Ajay. It shot to prominence in the 18th century, when French traders set up base in this part of Bengal. But the main attractions that Supur holds for today's traveller are its temples. Perhaps the best example is the twin temple of Lalbazar. Housed inside a walled complex, these two temples are like majestic twin towers embellished with exotic terracotta panels on the walls.
The temples are in the 'Rekh deul' style of the Orissa school of architecture. One of them is octagonal while the other is a simple circle. The octagonal temple, especially, has excellent terracotta panels on all eight sides. The panels above the main gate depict Radha and Krishna on the top, while a number of holy men in cheerful mood are at the bottom. In one of the panels, there is a woman bathing a baby with a tender expression. The baby could be Krishna, though it's not very clear. This panel is repeated on every side of the temple.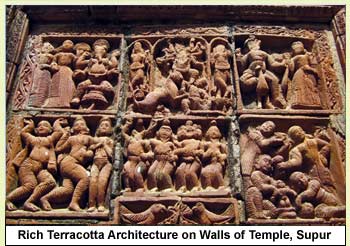 The rear face of the temple is dominated by a large panel of Durga with her family. There are small figures of Lakshmi and Saraswati, while larger figures of Ganesh and Kartik are found with some women companions. The panels are exquisite and intricate. Sadly, however, they have suffered the ravages of time and vandalism. One of the most interesting panels shows a fat man riding a lion, along with his consort. It could be a depiction of Shiva-Parvati. But what's most unusual about it is that the people surrounding them are all in European attire. Maybe that's the legacy of the French and British rulers, whose influence is still palpable in Supur.
This temple's twin, however, is not as striking, as few of the terracotta tiles now remain. Both temples, however, are maintained well by the Archaeological Society of India.You could also visit the Suratheshwar Shiva temple, the oldest temple of this village. Although the main temple is no more in existence, a few archeological samples, pillars and a broken deity, can still be found.
While Supur still has a lot to interest the most ardent temple fan, some of the priceless terracotta panels have either been looted or vandalised — taking with them large chunks of history.

If the poetry of red earth haunts you, there's no doubt that Supur will not be a disappointment.
Going
Take a train to Bolpur. From there it is just a 30-minute drive to Supur. You could hire a car from Bolpur station or from the government tourist lodge.
Staying
You can stay the night at Bolpur, where there are plenty of hotels available