| | |
| --- | --- |
| NEXT WEEKEND YOU CAN BE AT .... SURI | |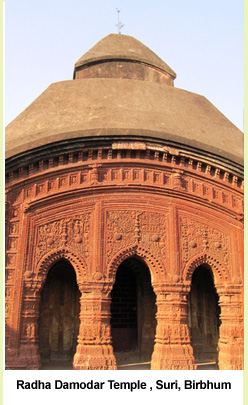 At first glance the place fails to catch the imagination of weekend backpackers. The district headquarters of Birbhum seems no different from any of the numerous unplanned and congested towns of Bengal. But once you know about the gem that is hidden under the dust, you will never regret visiting Suri.

Serious scholars of terracotta have accepted Birbhum as the place where some of the finest terracotta temples of Bengal are found. When we mention terracotta temples of Birbhum, we mostly think of the Ilambazar group of temples or temples situated in Surul village or the solitary temple of Kendubillo where thousands gather during the baul festival. But the oldest and the finest temple — known as Radha Damodar temple — is in Suri town. It's a majestic aatchala dedicated to Damodar, the other name of Shiva, and after whom the most important river of the region is named.

History is silent about the 35-ft-tall temple's origin and the missing foundation stone has made the task even more difficult. All that is known is that one Ghanashyamdas founded this temple along with another one known as Bhabatarini temple. It is assumed that the temple was established in the 17th century. It is erected on a foundation made of laterite stone.
The idol inside the temple has been long lost, but the designs and architecture of the temple still attract many. There are three arches with three gates at the front. The central arch depicts raas leela while the one on the left is embellished with bigger blocks and panels describing another common subject — Kalia daman. On the right is baked soil art, rarely seen on any temple wall of Bengal. This is also perhaps the only temple in Bengal where Dashavatar of Vishnu are partly seen with some mysterious panels not common in Hindu temples.
There are not just one or two but seven layers of designed borders that encircle the main panels. Above the borders each arch is decorated with seven terracotta tiles and each of the 21 tiles has a human figure carved on it.Damodar temple is also known as Ghunsa Mandir and is situated in a locality called Sonatorpara. The temple is well-maintained and located inside a fenced arena.
Suri also has two more Shiva temples established in 1876. These are found near Kalibari. One is known as Gobindeshwar Shiva and the other as Kuldeshwar Shiva. In the first temple we find figures of Dasha Mahavidya while in the other we find traditional statues of Ram and Sita. Both these temples find special mention in the book, Birbhum Terracotta, by Mukul Dey.
Suri also boasts a heritage library with a rich stock of books and history. The 114-year-old library building is a landmark. In 1899, the land was donated by the royal family of Hetampur and on the same land Suri Town Hall was established in 1900. A book bank was opened by some local scholars and later converted into a library. The red-brick arched building is a simple yet beautiful piece of European architecture.
In one corner of the town is Barabagan where we find graves of the British. There is also a colonial church with a beautiful bell room.
Going
Suri is 220 km from Calcutta and 34 km from Bolpur station. It is well-connected by road and rail from Calcutta and Durgapur. You can take a train to Bolpur and from there hire a car to Suri. By road, it will take an hour from Bolpur.
Staying
There are a number of good hotels with AC rooms and restaurants. Hotel Bequest Inn can be a good option.
This article was published on 20th April 2014 in The Telegraph

Click here to view the original article