The exquisite temples of Surul must be explored and protected before they consigned to oblivion because of neglect, writes Somen Sengupta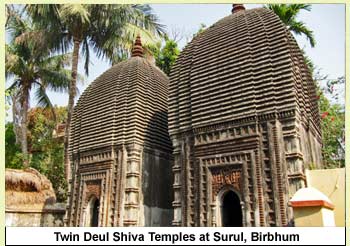 The art of terracotta dates back to the Indus Valley civilisation. It was about 3,000 years before the birth of Christ when Indians mastered the magic of this craft. Surprisingly, however, it's only in Bengal and a few places in Jharkhand that this craft was used to decorate temples, mosques and other places of worship. In Bengal, artisans opted for terracotta tiles mainly due to the non-availability of stone and also for its easy handling nature.
Although the best terracotta temples of Bengal are to be found in Bankura, Hooghly and Burdwan districts, some places in Birbhum are also blessed with excellent temples, all in the vicinity of Shantiniketan, a place that needs no introduction. One such place is Surul, where incredible terracotta temples with exceptional panels catch the attention of tourists and those serious about ancient architecture.
Mukul Dey, legendary in this field, had written an excellent article in the now defunct The Illustrated Weekly of India in 1951 where, for the first time, he highlighted the rich artifacts of Surul's temple. Around the same time, a woman named Angela Latham travelled to and studied the village of Surul in the late 1940s and wrote an article in the Art & Letters - Journal of Royal India, Pakistan & Ceylone Society in 1951. Both the articles were highly acclaimed and created a profound interest about these temples.
Despite that, even after so many years, these temples have yet to come under the banner of the Archaeological Survey of India and many of them seem to be counting the days to becoming rubble. The oldest reference of the place indicates that this was a hub of French traders way back in 1768 when one Mon Le Seigneur, a Frenchman, purchased land from one Anandachandra Goswami and started a business. The French flag was proudly hoisted in Surul village and in this part of the country they used to enjoy almost equal authority with their counterparts of the British East India Company.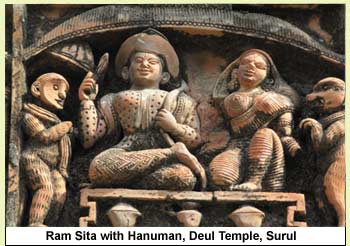 Then from 1782, John Cheap of the British East India Company overtook the place as the first resident Bengal Civil Service employee. Here he built a massive mansion, the remains of which are seen in a dilapidated condition inside a shal jungle named "Cheap Saheber Kuthi". He started an indigo business and was involved in many social activities there till 1828. The royal family of Surul made their fortune some time during this period. Later, the family continued to construct temples. In those days, establishing a temple was counted as a sacred act and it was almost supplementary every time a new pond was dug. It was believed that after a bath, a man needed a temple to offer his prayers to God. The Surul rajbari was constructed some time during 1750 with a big courtyard decorated with pillars with a Europeans touch.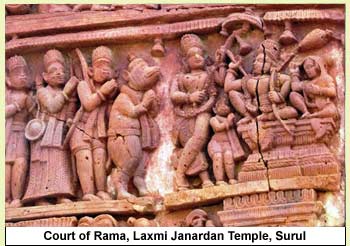 Today, the biggest surviving temple of Surul is the Lakshmi-Janarddan temple which stands inside the rajbari complex. The foundation plaque is no longer legible and this leaves us in a puzzle about the time of its establishment. However, it does seem to be more than 200 years old. A small yet majestic temple made in the typical Pancharatna style of the Bengal school, it is embellished with excellent terracotta panels with exceptional figures taken from the Ramayana. The five-pinnacle temple has a carved façade supported on three arched gates.
All big tiles have been placed atop the gates and in the middle is the most popular part of the Ramayana: the battle of Ram and Ravana. It is carved with a common posture of Ram and Ravana in warrior mode. Hanuman is seen in military attire bravely attacking at the other end. The figures of a stallion, a warrior on elephant back, Laxman setting his bow and a drumbeater are truly eye-catching. Below this in a separate panel with Hanuman is seen gifting a present to Sita, who is captivated by female guards in Lanka.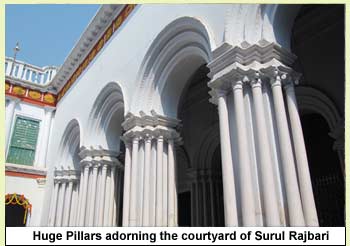 The surprise of this temple is that on the other side we see exceptional sculptures like the royal courts of Ravana and Ram. The Ramayana is a common subject in many terracotta temples of Bengal but they are mostly limited to war sequences, the abduction of Sita, Ram's marriage, his birth, etc. There are a few temples where this part of the Ramayana was covered in priceless baked tiles. Ravana sits on the thrown in a very majestic way while Ram is cross-legged and calm. Both the courts are crowded with royal figures and richly decorated with floral designs.
Women donning ornaments are seen in both the courts. Jammuban and Hanuman are shown paying respect to Ram. Above this we find a holy man, probably Valmiki, performing religious rituals with other noblemen. Above Ram's court we find Valmiki with other holy souls writing the Ramayana. One block illustrates Hanuman seeking Ram's blessing by touching his feet while Ram is shown affectionately placing his hand over his head.
On the left side along the pillar is a Dashavatar of Vishnu and at the top edge Krishna leela is carved in detail. On the left of the Pancharatna Temple are two deul-type temples with terracotta panels. Both were founded in 1831 as mentioned in the foundation plaque.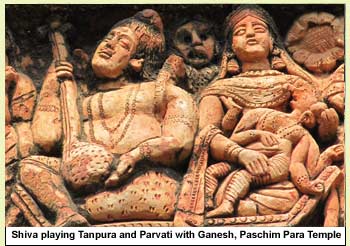 One of the temples shows Durga with her family just above the door. Though the figures are badly defaced, this panel still looks beautiful. The other temple is even more richly carved. The panel above the door depicts Ram and Sita seated on the thrown while Hanuman and Jammuban are seen at their service. Apart from these are female figures in European attire. Similar figures are also seen on the side of the main gate.

These interesting female figures on the temple wall somehow give a hint of the awakening of the Bengal of that period. Outside the Surul Rajbari are two more terracotta temples in a locality called Pashchim Para. Here a similar Rekh Deul temple is seen with eye-catching panels. Established in 1861, the 150-year-old temple is now under renovation by a local patron. This temple also has the figures of Ram and Sita on its door, with figures around them in attire that signifies the influence of Islamic culture.
The most exceptional panel is that of Shiva playing the tanpura. This is indeed interesting as nowhere else in terracotta do we find Shiva playing a musical instrument. Next to this is a panel depicting an affectionate Parvati with her son Ganesh.
The last temple of Surul was founded in 1837. Known as Purba Para Mandir, is in a derelict condition. However, it still has a few decorated terracotta panels. The village of Surul is a living showcase of Birbhum's terracotta heritage. Years ago in 1936 the first initiative to preserve these temples was taken by Rabindranath Tagore, who gladly accepted the responsibility and said, "It is an object very dear to my heart and I cannot help welcoming any endeavours towards its realization." The exquisite temples of Surul must be explored and protected before they are consigned to oblivion because of neglect.
Access
Surul is 10 km from the Bolpur town of Shantiniketan. Bolpur is well connected by road and rail from Kolkata. It takes three hours by train and from Bolpur station Surul is 30 minutes by car. Cars can be hired from the station or from the West Bengal Government's tourist lodge. There are plenty of options for night stay. Photography inside the Rajbari is subject to permission.
This article was published on 10th March, 2013 in The Statesman

Click here to view the original article