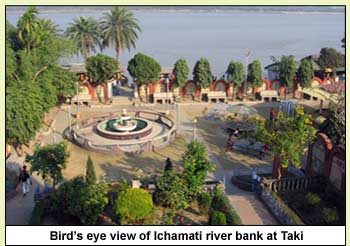 A drive of three hours from the city with pleasant sights of rural Bengal on either side will take you to Taki by the river Ichamati, rich in history.
Taki a small yet beautiful toen at India-Bangladesh border is an ideal gateway for Kolkatan.If you are fond of nature you will certainly fall in love with it.
The river Ichamati is tied with Bengal's history.Those who have seen the holocaust of partition will love to stand on the banks of Ichamati at Taki from where Bangladesh is visible. From the dilapidated Taki rajbari the panorama is both pleasant & pensive.
People of both side wait for the Bijaya Dashami afternoon, when the boundary between the two countries are virtually removed for a day.From both sides boats carry ideals of Goddess Durga for immersion & each boat bears a flag of the country it belongs to.
Mughal under commander of Man Singh invaded Bengal in the 15th century through Taki.One of the most powerful landlord of Bengal Pratapaditya of Jessore was vanquished. A road is named after Man Singh & Taki Municipality has installed a plaque describing the path through which Mughal came.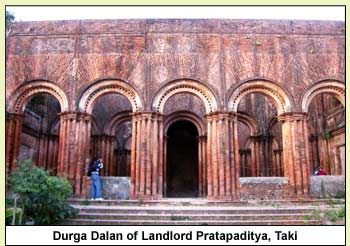 The Durga dalan of the royal family is worth visiting.The structure of the dalan is made of small round shaped bricks.There are sixteen gates standing in three rows & all are crowned with arches.The courtyard is unmanned & often crowded with children & cattle.There are several places in Taki & all of them are in shambles.You can also visit the 300 years old Jora Shib mandir.
Next take a stroll on the banks of Ichamati river.With birds flying overhead & country boats floating on the vast expanses of the river the panorama wears a splendid look when sun rises.In the evening the moonlight & sound of crickets turn the river side into a magical place.The Taki Ramkrishna Mission is another place to visit. Established in 1931 it has a temple resembling the Belur Math.The temple with a central dome surrounded by four small domes houses a statue of Sri Ramakrishna.

In a nutshell :
The nearest railway station in Taki is Taki Road.
Taki Municipality has a river facing guest house called Nripendra Athitishala.Suhasini guest house is another option.
Local sight seen can be done on van rikshaw. A ride of two hours covering all points will cost you Rs 50.
You can buy jiggery ( patli gur ) & gamcha from the loca market as souvenirs.
You can visit Machrangadeep – Taki Municipality arranges it own boat.