Uchkaran, near Bolpur in Bengal, offers a rich history of ancient temples with panels vividly depicting the Ramayana war. Somen Sengupta took time off to explore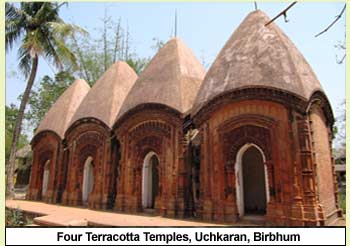 Muslim rulers began losing out in Bengal in the mid-18th century, their control over Hindu property and places of worship starting to deteriorate. This was evident after the Battle of Plassey when many rich Bengali Hindus openly supported the East India Company in the assumption that the British would be better rulers. Soon, the East India Company took control of Bengal and its Hindu community regained stature after many centuries.

Hindu zamindars of Bengal would build temples to herald their wealthy presence and this resulted in the enrichment of architecture during that era. Birbhum district of Bengal, which had been under Muslim rule for a long time, witnessed a wave of temple construction with splendid terracotta carved walls. One such village is Uchkaran, near Bolpur town, where a wealthy family went on to establish four similar "Charchala" temples on a single plinth, each of which were decorated with beautiful terracotta panels.

Not much is known of Harendranath Sarkhel, who established these four Shiva temples in 1768. These almost homogeneous west-facing one-door structures were erected on a common foundation plinth and though they are still strong enough to hold up the heavy wooden doors, the Shiva idols with the bulls have been relocated. Each temple once had a Shiva linga made of expensive stone. It is not the deity but the magic of terracotta that has made the Uchkaran temples special on Bengal's tourism map. The panels and figures engraved on the walls of these temples are amazing, with the terracotta panels at the cornice of two temples in middle definitely qualifying as the finest.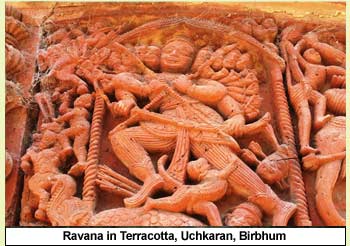 It is astonishing to find such a high level of craftsmanship, given the vivid details these unknown artists have rendered on terracotta. If observed carefully, the walls are just treasures to study the evolution of Bengal's temple architecture. The figures are very different in shape and size and even their attire and ornaments are exceptional. The Hindu epic Ramayana is carved here and special details of the battle sequences can be seen. The figures of Ram and Laxman show both aiming arrows with their bows and are mind-blowing. A wall depicts the two riding a dragon-headed vehicle while a man on a horse steers it. A huge human warrior is found on the next. This is quite a unique concept since scenes from the Ramayana are found on various other terracotta temples of Bengal.

What is most surprising is the plethora of female warriors shown in action, killing demons while riding an animal that is half-lion, half-horse. One such figure holds the hair of a horse rider in her left hand and is about to behead him with a sharp weapon held in her right hand. Under her feet is a lion killing a man, while a fox and a vulture feast on a body. Such detailing is exceptional. All the soldiers in her group are women and in another panel they are found venting their wrath on a horse-riding warrior. Some scholars say these are the images of Chamundi who, as per Hindu mythology, killed the two demons, Shambhu and Nishambhu. A similar eye-catching figure shows the Goddess Kali on the battlefield. The stunning point is that there are two Kali figures, side by side. While one wears a sari, the other is unclothed, with a garland of skulls around her neck. There is a plethora of magnificent panels as well and one should not miss the superb Ravana figure on a temple wall. Here he is shown as a great king with a giant physique. Riding in a similar dragon-faced vessel, we find him holding a huge sword in both hands and in self-defence has two more arrows crossed close to his chest. A few monkeys are at the legs of the horse.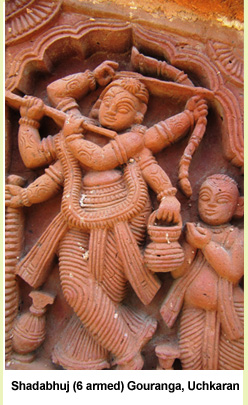 Ravana is shown supported by an elephant rider. In addition, there is a band of musicians with drums and trumpets to compliment the war cry. Very few temples can boast of such minute details of a Ramayana war sequence. In that sense, these four temples are surely among the finest Ramayana temples in Bengal. The best part is that the bravery of the demons is described very broadly.

History enthusiasts can also visit another historical temple – Chandrodoy, in the same village. Hridayram Sahu, author of Dharmamangal, founded this temple in 1768 and it was once also full of terracotta panels but now, after careless renovation, all have vanished. This temple was first renovated in 1880. The Archaeological Survey of India is yet to take over the maintenance and renovation of these temples. These ancient places of worship are frequented by streams of people daily, most of whom are completely ignorant about the artistic and historical value. If prompt action is not taken to preserve these matchless temples, they will soon turn to rubble.
Travel tips
Uchkaran is 24 km from Bolpur or Shantiniketan station. One can club this tour with Shantiniketan, where Tagore's famed Visva-Bharati is located. Uchkaran is a 50-minute drive from Bolpur station. One can hire a car near the station or tourist lodge. Photography is allowed. One is allowed to carry water bottles and dry snacks.
Accommodation

There are many budget and luxury hotels in Shantiniketan. The West Bengal Tourism Department's hotel, or Bolpur Tourist Lodge offer good value for money with excellent AC and non-AC rooms at modest rates. Book through: www.westbengaltourism.gov.in
This article was published on 6th July 2014 in The Statesman

Click here to view the original article