Somen Sengupta revisits Vaishali, an extra ordinary archeological site in India where the Buddha had announced his impending Mahanirvana.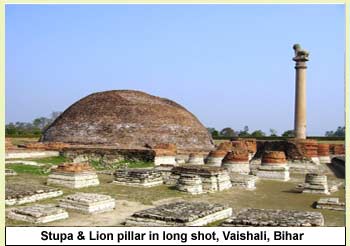 Rain drops were still rolling down from the window panes of my car when I suddenly found a sign board installed by Bihar Tourism indicating the road that leads to relic stupa of Vaishali. Outside was clouded I had sunshine on my face knowing that I am in proximity of Vaishali. Air was sultry & the sky dark and I was silently praying to the Budha to stop the rain because returning from an extra ordinary excavation site like Vaishali without good photograph makes no sense. Thanks to him that my prayer was shortly answered .The sky smiled with a pensive touch quite similar to what people of this place experienced many years ago when Budha by then as old as eighty announced his impending mahanirvana right here at Vaishali.

I first visited Vaishali nearly six years ago not knowing much about the place. Like a casual tourist I took meaningless snaps & left. Later on realizing it's gargantuan historical significance I repented helplessly on my ignorance. Thus when I got a chance to revisit the place I did not think twice & before leaving Patna for Vashali I told my friends that I am off to world's oldest republic !
It is now a proven fact of history that oldest republic of the world was once formed here under the rule of Licchavis. Later the place was gradually ruled Mauryas, Kushans & finally by Guptas. Despite of being very near to Patna city Vaishali as a tourist spot is sadly unexplored. The Bihar that we see today was once the political & religious hub of India for many centuries. From it's ancient capitals Patliputra & Vaishali royals ruled India & made history changed in every decade. Simultaneously Bihar developed as a centre of leaning & institutions like Nalanda, Odantapuri & Vikrashila became part of our history. Wit the passage of time time, large scale destruction by muslim invaders & neglect pushed many things into dark but some ruins & relics still remain reminding us of our glorious past & Vaishali is one of them.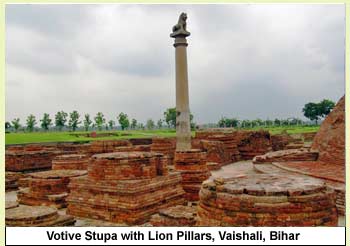 History tells us that Vaishali got it's name from King Vishal of Mahabharata & the city had a vivid mentioning in various travelogues of Chinese visitors Faxien ( 5th century AD) & Xuanzang ( 7th century AD ).These two references helped Alexander Cunningham chief of Archeological Survey of India in 1861 to relocate this lost city in the Basrah village of Bihar.
One of the most eminent exponents of Jainism Mahaveera was born here in 599 BC. The place reached it's zenith of glory when in 483 BC Lord Budha visited the place to deliver his last sermon " Parinirvana " just three months before his death. Budha a frequent visitor of Vaishali city allowed womens to join Sangha & first who accepted this benefit was mother of his disciple Ananda.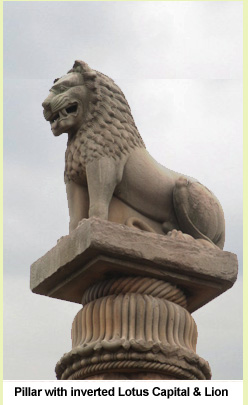 100 years after this revolutionary incident 2nd Buddhist council was conducted here in 383 BC. It is here Amarapali the courtesan mentioned in various Buddhist literature became follower of Buddha. On his way to Nepal Ashoka the great visited Vaishali & erected an Ashoka pillar in the memory of Buddha.
I read somewhere that after sometime this place was abandon for long. Many priceless artifacts were stolen & destroyed in 1861 when Alexander Cunningham discovered this site with reference of various travelogues.He mentioned it's huge potential as a place of archeological excavation. In 1903 Dr Bloch of ASI undertook the project & was followed by Dr Spooner in 1912. What they recovered was just jaw dropping & this excavation site re-opened lost pages of Indian history.
By clearing the debris from a huge stupa with massive brick construction underneath it they found an Ashoka pillar in excellent polish. Innumerable artifacts like coins, potteries, statues, caskets, a double walled square chamber, gold life, semi precious stones were discovered. Inside the stupa they found a statue of headless seated Budha & a crowned head as well . The biggest discovery was perhaps a big Budha statue with a crown on head & wearing a necklace. It is a piece from Pala period.
Before the site was undertaken by ASI the Ashoka pillar was partially visible but most of it was under mud & soil .Local people used to call it Bhimsen ki lathi. It was found to be one of the six lion pillar Ashoka erected to inscribe his declaration & messages.
I felt immense pride while facing the mammoth pillar. This monolithic 12 mt high almost polished sandstone rests on a 2.2 mt slab. The pillar is crowned with a solitary seated lion with it's mouth open.It is the only Ashoka pillar found so far which does not contain Ashoka edicts or inscription but contains some Bramhi & Shankha lipi used in Gupta era. Reaban Burrow a scholar from Asiatic Society of Calcutta explained some of the script after his visit to this place.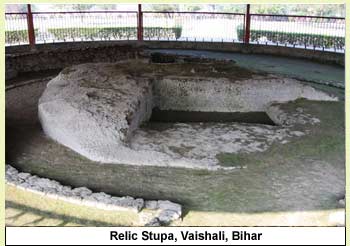 As I turned back I found the main attraction of Vaishali.It is the grand stupa also known as Kutagarasala stupa. It is believed that Budha used to stay here during his visits to this city.A master piece archeological object this brick stupa was built by Maurya's in 3rd century BC & then greatly renovated by Kushan who increased it's height in 1st century BC.

Finally I walked to the relic stupa which is now just a shadow of it's past. This is one of most sacred pilgrimage for any Buddhist. It attracts huge numbers of pilgrims from Japan, Thailand, Korea & many other countries.
A vast water tank just next to this stupa inside of the same complex always catches attention. Known as "markat hrad" this tank has two bathing ghats on the opposite sides. These designed in such a way that one is not visible from the other. I came across another large tank near by known as Abhishek pushkarani or coronation tank. It is believed that water of this tank was used in coronation of Lichhavis. On it's bank, the Japanese Govt has funded the Vishwa Shanti Stupa.
When I finished my exploration it was twilight. The calm & tranquil atmosphere had me feeling very close to what many followers of Buddha must have experienced many, many years ago here in historical Vaishali.

Travel Logistics :
Vaishali is just 63 km from Patna city - it takes one & half hour by road to reach.Start early from Patna to cover all sites in Vaishali.Vaishali Museum is a must visit place – do not miss.Bihar Tourism guest houses are available. From Patna also cover UNESCO world heritage sites Nalanda & Bodhgaya. Helpful website: www.bihartourism.gov.in and
www. bstdc.bih.nic.in

This article was published on 29th December 2013 in The Statesman

Click here to view the original article