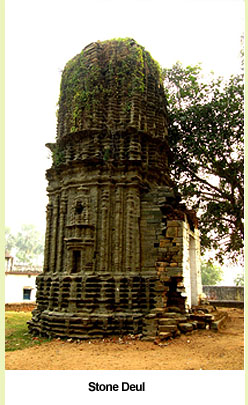 NEGLECTED HISTORY The beautiful Jain and Hindu temples of Para in Purulia district of Bengal is in a dilapidated condition, but the state government is doing nothing to preserve the rich heritage.

In eastern India, Jainism had flourished before Buddhism but due to lack of royal patronage, it vanished and in many places was overtaken by Hindus. In Manbhum region of Bengal-Bihar border, the expansion of Jainism was amazing at one point of time and from 9th century to 11th century, the area revealed a slew of Jain archaeological monuments but from 12th century onwards it saw a sharp decline.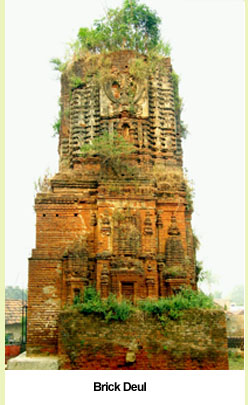 Soon huge archaeological treasures also went into oblivion or were simply destroyed by non-believers. It remained in dark till the middle of 19th century when Joseph Daviditch Melik Begler (1845-1907) an assistant surveyor of legendary Alexander Cunningham, who with an extraordinary passion for oriental study did a deep study of Manbhum's archaeological relics.

It was Begler, the man who in 1878 published a study paper titled A Tour Through the Bengal Province, covering unexplored and unexplained archeological sites and relics, who mentioned about a village named Para that houses three very interesting structures. It is a fact that Begler's discovery of these structures gave a new insight into the history of this place.

The village Para is just 29 km from Purulia town. The village cuts a sorry picture. It simply looks like any other poverty-stricken Bengal village. Once inside the village and standing on the field one gets to see two exceptionally significant monuments of more than thousand years old.

From here time whispers the story of the past and one can see history. It is the interesting temple of Para that contains the oldest testimony of Jainism in Bengal. Historians have traced out that this place was second capital of Panchet kingdom of Manbhum till the year 969 and after that they shifted capital to Garpanchakot.

After staying in oblivion for few centuries, the place was again surfaced in the memory of commoners in 1878 when JD Begler rediscovered it in semi ruined state. The discovery revealed three rekh deul style place of worship.

One made of stone, one made of brick and another made of stone and brick. All are exceptionally enriched in artistic expression but no written testimony was found. There are three temples in Para and all are rekh deul style carrying a very strong influence of Odisha School over Bengal School of architecture. Oldest among them is a stone-made Jain temple but local people called it Laxmi temple for some unknown reason.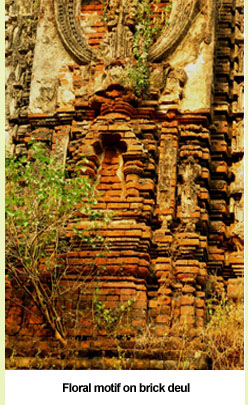 In its shape and size, it has similarity with other rekh deul temples of Purulia like one of Banda or Telkupi. Believed to be made in 9th century this temple does not have any deity.

It lost its glory even before Begler recorded it for the first time. It is now 40 ft in height. It is assumed that with its intact pinnacle, it must be 47 ft tall. Made of soft sandstone, the temple contains excellent curving of various floral motifs and human figures on its wall. Some figures like dancing women in festive mood, yaksha, horses, etc. are found. Some Hindu gods like Laksmi, Surjya and Ganesh are also visible but all the figurines are decaying fast and gradually collapsing.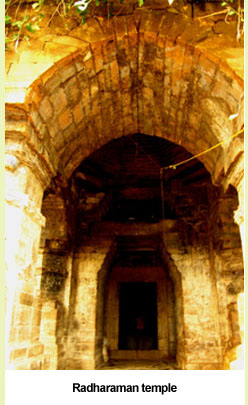 Stylistically, the figures are deeply influenced by Gupta-Chalukya periods. Archaeologists are of the opinion that once a varandha encircled it and still few stone-made pillars are found at a nearby primary school supports the claim. On its outer wall, it has three small chambers which once used to house some Jain Tirthankara statues.

Unfortunately those statues are all lost but still some statues of girls offering services is a common feature of any Tirthankara statue is visible here. This clearly confirms that it was a Jain temple which was later abandoned or captured by the Hindus.

In his report, Begler mentioned that this temple was not repaired in recent times and the last repair was executed during Emperor Akbar's reign by his army General Man Singh who had supreme authority over these parts.

Just 150 ft away of this stone deul stands the biggest archaeological attraction of Para. It is the red brick deul temple constructed between 10th and 11th century. The 45 ft high temple is very badly preserved and is broken from the top.

It looks like the Deulghata deul of Purulia. Its outer walls are embellished with rich work of brick terracotta and stucco work. This also contains floral motifs and human faces though many of those are badly weathered. The lower wall is given a protective brick-casing.

Though the temple is in semi-dilapidated condition and signs of vandalism are clear, it has huge appeal because of its size and shape. The lower part has three niches and each is decorated with a chaitya kind of structure where as there is a heart-shaped chaitya on the top of the tower.

The entrance is tall corbelled triangle and the temple is facing south. Inside the temple, there are few stone-made statues. Out of that a Shiva statue with weapon in hand is known as Narteshwar Shiva. There is a deity with four hands in the temple.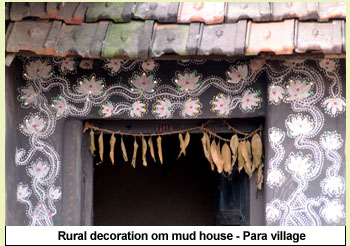 Locals call it Udaichandi temple and worship it as per Hindu rituals. The third temple of Para village is also unique. Though it is in a bad condition and now partly covered with wild vegetation, this is the only temple of Para which has proven history.

The stone and brick made temple is known as Radharaman Temple. It was established by one Vaishnav from Vrindavan named Purushottam Das who came to this village with Mughal general Man Singh. The tomb of Purushottam Das is situated opposite to the temple.

The original deity was removed from here by a ruler named Kalyani Prasad or Shankari Prasad, who took it to their new capital in Kashipur. The temple has a foundation stone placed on its wall but the letters are so badly defaced that now nothing is legible. The temple also has no deity inside but during Janmashtami a temporary clay-made Krishna is worshipped here.

Needless to say, weather and time are taking a toll over these three temples of Para. If these temples are lost, a golden part of Manbhum's history will be lost forever. Already enough damage is done to Purulia's archaeological treasures by the local people and DVC. In 1957, at the time of constructing Panchet Dam, DVC, without any consideration, flooded and destroyed more than 19 excellent stone temples in Telkupi. If proper protection is not taken soon, temples of Para will face the same end like the Telkupi temples. And history will not forgive us.


This article was published on 12th September 2016 in The Hindustan Times

Click here to view the original article