| | |
| --- | --- |
| DHAULI : REBIRTH OF A KING | |
The unimpressive river silently flows next to a small green hill. More than 2000 years ago here on the bank of this river & at the foot of this small hill named Dhauli a fatal war was fought. Kalinga as the place was then known was attacked by king of Magadha a super power of our ancient history. The conquest of Kalinga was achieved at the expense of unimaginable loss of lives. The dance of death caused such devastation on nature that the water of the river turned red with human blood. This made a super powered king broken from inside & soon changed him from his core. The countless lives lost & distorted in this war of 261 BC forced a man to give up the sword & took up the doctrine of welfare to the common people. The first king of the world emerged to avow that all subjects of his domain as his own children. Under the shadow of Buddha a man stepped into history with an amazing mission.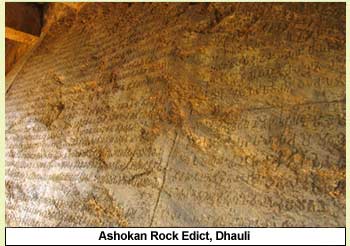 To spread his objective of peace Ashoka curved his mission statement in unique way. Across his kingdom which ran from Gandhar to Amaravati he carved edicts on rock & pillars. Here on the bank of the river of blood he picked a rock near the battle ground & here a declaration on the rock was carved to make the place immortal .A new journey of a new born king started from there. We did our best to forget him & his work. As soon as mayhem of Buddhism dried down in India from 6th century Hinduism over powered it's influence on it. Then came Islamic invaders from west & under the shadow of their sword all other religion in India oppressed for next many centuries. Soon Ashoka & all his great achievements banished into oblivion.
It all changed when some Europeans with their extra ordinary passion for oriental history & archaeology came to this shore from early 19th century as employee of East India Company. James Prinsep was such a man who was head of Asiatic Society of Bengal in that era. A master in the study of Indian pre-islamic history James was aware of one Mr Andrew Stirling who 1817 heard of a rock edict in jungle of Dhauli near city of Cuttack. In 1837 James Prinsep contacted a young member of coal committee named Lieutenant Markham Kittoe whose job was to explore new coal field in Orissa for East India Company. Markham Kittoe was also an antiquarian & for him it was an opportunity to ignite his passion.
He took no time to explore the hill of Dhauli then known as Asvathama hill & soon faced a strong retaliation from local people. He was finally helped by a man from Benaras who with a burning torch took him to a rock full of mysterious edicts in excellent perfection. Kittoe rushed to the spot next morning only to be attacked by a she bear & her two cubs who made the place their nest. For saving his life the brave Kittoe climbed the rock above & from there fired the she bear to death.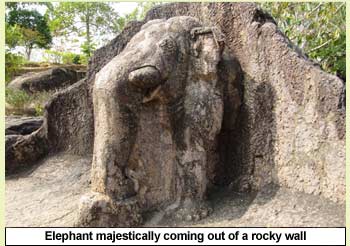 There on that spot he did another surprised discovery. He found an excellent stone elephant sculpted in stone. This was just a bonus for him. The targeted rock full of edict was on a massive stone of 15 ft long & 10 ft height. It was written in Magadhi Prakrit language in Bramhi script which was still an un-coded language to scholars across the world. As soon as James Prinsep got the copy of the edict he with his year-long hard-work arrived at a conclusive end of a long research. James Prinsep marked the rock as Dhauli rock edict & he decoded the language of Maghadhi Prakrit as the first person of the world.
With his extra ordinary achievement the mystery about a great Indian king named Ashoka whose name till then was directly & indirectly getting traced in Srilanka, Nepal & travelogue of a Chinese traveler named Xuanzang finally had a stamp of validation. The existence of Ashoka became no more a matter of doubt. It was a sheer reality of past. It was proven that "Devanamapiya Piyadasi" was none other than the great king of Magadha who after his gory conquest of Kalinga was badly heart broken by seeing the devastation of lives. Thus he accepted the doctrine of welfare of common people considering all of his subject as his child under his newly embraced religion Buddhism.
The conquest of "Dharma" was avowed from this rock edict of Dhauli. It was an amazing discovery as it changed the history of mankind. The glory of Buddhism as a religion born in India & the glory of Indian as one of most civilized race before the birth of Christ were recognized beyond any considerable doubt. The excavation in & around the Dhauli hill continued. Soon J D Beglar found a brick stupa in the hill but the same was badly vandalized long before of it's discovery. In 1838 Kittoe found five more caves. In one of the cave an inscription was found that narrates the construction of a Buddhist monastery named Arghyaka Varati by King Bhimata & his son Loyamaka of Viraja which is today's Jajpur. This clearly establishes that human inhabitance was there at Dhauli in 829 AD during the period of Bhumakara king Santikaradeva.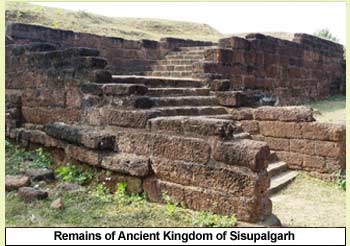 In 1949 ASI initiated another excavation project under K.C Panigrahi & it exposed a trench laid close to the rock edict & rubble of stone wall. Many terracotta artifacts were also found. The rock edict of Dhauli is addressed to the royal ministers of Toshali. The archaeological remains of Toshali was not found until the discovery of an ancient fort relics came up in a place named Shishupalgargh very near to Dhauli. This clearly concludes that this place was either under Shishupalgargh which was then known as Toshali.

Just 3 km from the hill remains of a 2000 years old fort was unearthed by B B Lal of Archaeological Survey of India during 1948 to 1950. A 2nd century BC old almost square structure made of latarite stone covering 1.5 km area with prominent evidence of human settlement even before that came up. From 2001 Deccan college of Pune & California university have jointly carried on small excavation & a set of thirteen pillars were excavated. These discoveries clearly indicate an existence of a fort town which was banished after an attack & it cements the fact that ancient Toshali was here indeed. Today Shishupalgargh archaeological site is also another attraction by it's own merit.

The accidentally found rock elephant is a gem of Dhauli hill. The elephant is not complete in shape. It is a forepart of an elephant majestically coming out of a rocky wall. This unique sculptor signifies Budha's birth out of his mother's womb. The figure is not as perfect as other Mauryan animal sculptor found at Sarnath, Vaishali or Rampurva. It is little inferior in anatomical treatment. Many are of an opinion that it was done by local people. However it is an exceptional stone figure of that era & has no match with any other rock sculptor found so far.
Thanks to Orissa tourism & ASI Dhauli hill is almost unexploited & very well preserved today. The rock edict is enshrined in a room with a glass wall. Above it the rock elephant sculptor stands like an old guard of time. The edict on the rock can be seen from a close distance but from the other side of the glass.The huge rock inscription is parted in four tablets & Magadhi Prakrit alphabets are still clearly legible.

What was actually written on the rock more than 2000 years ago with a strategy to immortalize it ? Vivid study by James found that it was addressed to noble souls of Toshali the kingdom of Kalinga which was already under Ashoka.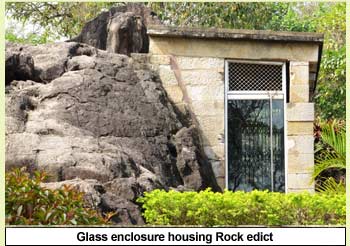 This rock edict was exceptional compared to other rock edicts found across Indian subcontinent as it contained only 13 statements instead of 14 found in others. More to that edict 11,12 & 13 were not included. The edict from 1 to 10 covers Ashoka's instruction of non killing of animal even in the royal kitchen, medical care for both men & animal & establishment of morality or Dharma by his special royal representative among all of his subject. It also avows that on the 10th year of his anointment Ashoka the beloved of the God visited Sambodhi that is Bodhgaya & spread the message of Dharma. Last 2 edicts describe that morality is the only source of fame & glory.It also states that in his vast kingdom the application of morality is to be done among all of his subject.
The rock edict of Dhauli is too special because it contains 2 additional declarations which were not found in any other Ashoka edicts explored so far. Known as Dhauli edicts these 2 lines in a nutshell captures the greatness of a king. It passes an order from the king to all his royal officers to treat all subjects under his kingdom as his own children. It contains a king's wish that all welfare & happiness of this world to his subject as he wishes for his own children. It instructs his royal officers to be free of anger & hurry so that nobody is punished without a trial. It also instructs his royal ministers of Toshali to spread the message to his unconquered territories.
So what is missing from Dhauli edicts?
The rock edict number 11.12 & 13 which is found in every rock edict of Ashoka is missing from Dhauli. While purport of edict 11 & 12 are covered in other declaration the total omission of edict 13 is really interesting.
What does edict-13 contain ?
It contains that painful history of Kalinga conquest at a cost of unimaginable loss of lives. This is really astonishing that even more than 2000 years ago a system was careful enough not to hurt the local sentiment of people by reminding them their most expensive defeat in the terms of lives & wealth. It is indeed surprising that another Ashoka edict found in Orissa near Beherampur also had this particular edict missing.
Ashoka's greatness comes palpable even in his communication plan executed more than 2000 years ago.

Travel Logistics :

Dhauli is just 9 km from Bhubaneswar city which is well connected by all big cities of India. In 1971 Japan Govt had set up a Shanti stupa on the top of the Dhauli hill – many people come back only to see that stupa. This to be avoided.

Shishupalgargh is just 3 km from Dhauli hill – the site is marked by ASI board but help from local people is needed to locate it. The rock edict can not be touched – it is inside of a glass room. Photography is allowed.

This article was published on 29th November 2015 in The Hitavada

Click here to view the original article