Nestling in the foothills of the Himalayas, the Neora Valley National Park is a haven for wildlife enthusiasts and shutterbugs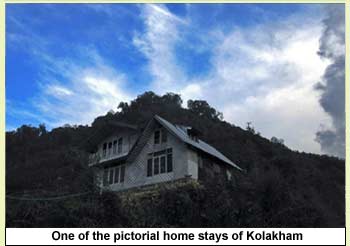 For a nature enthusiast an unknown place with pristine beauty is a dream destination. Kolakham, which even a Google map takes time to find, is one such destination. It is a small village in Kalimpong, Darjeeling. Nestling in the Himalayan foothills, Kolakham is a unique forest reserve, a haven for eco-biological students and wildlife photographers.
The picturesque Neora valley lies beyond Kolakham village. The nearest Lava bus stand can be reached through Siliguri or Bagdogra.From here the journey to an unknown wonderland starts. The road is hardly motorable. Vintage Land Rovers are the main mode of transportation that takes visitors to Kolakham from Lava.
The drive is lovely through dark green pine forests. A 40-minute drive through the jungle gets you to Kolakham. A destination with blend of the Himalayas and a forest reserve is rare in India. Only a handful places like Binsar in Uttarakhand offer a similar treat. Neora Valley National Park lies near this small village. The park has a huge number of wild animals.
There is nothing much to do in Kolakham village itself. But that is the main attraction. To the urban-weary, it offers a sea of silence punctured by soft sounds of many uncommon birds. The sunrises are beautiful. With luck one can see the majestic beauty of the Kanchenjunga if dawn comes without any mist and fog. Before the height of Mount Everest was measured, Kanchenjunga was considered as the world's highest peak. Today it is the third highest peak of the world and the highest peak of India.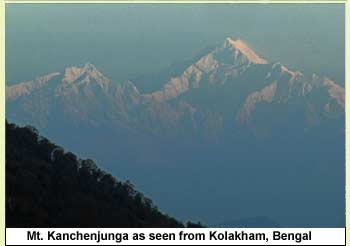 At Kolakham, the beauty of Kanchenjunga can be savoured fully on a clear day. At the break of the dawn, its five snow-capped peaks meet the first ray of sun and turn orange within few minutes. As the day progresses, these turn into melting gold. Apart from Kanchenjunga, Mt Kabru, Mt Kabrudome and Mt Pandim are also visible from the village.
The icy splendour of Kanchenjunga is not the only thing that Kolakham offers. There is another aspect of beauty in the form of bright, colourful and rare birds. These playful creatures often land in the verandas of huts where visitors usually stay. As the village is in close proximity to the Neora Valley National Park, its surroundings are always abuzz with the sound of many birds and butterflies. Commissioned in 1986, with an area of 88 sq km, the Neora Valley National Park is one of the most recent yet one of the richest and undisturbed ecological zones of India. It is really a haven for birds and wildlife watchers. Around 106 kinds of birds are found here.
The most common birds are minivets, mynas, orioles, sunbirds, parakeets, swallows etc. There are many rare varieties, too, like rufous-throated partridge, satyr tragopan, crimson-breasted woodpecker, jerdon's baza, black eagle, dark-throated thrush, chestnut-headed tesia, black-faced warbler, black-headed shrike babbler, maroon-backed accentor, dark-breasted rosefinch, red-headed bullfinch, gold-naped finch and many more. Named after River Neora, the national park is situated on the border of Bengal, Bhutan and Sikkim. The forest houses trees of sal, oak, rhododendron and bamboo groves. The park is home to the rare Himalayan red panda. According to the 2002 tiger census, the park is also home to 19 Royal Bengal tigers along with another rare animal — the Himalayan clouded leopard. Other animals often found here are Himalayan black bear, Indian gaur, deer, gural, lesser cat, thar etc.
As 20 per cent of mammals found in the Neora Valley National Park have been declared highly endangered, Unesco has included this forest in its list of tentative world heritage sites.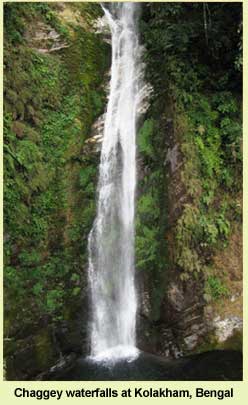 Fact file
How to go: Bagdogra and New Jalpaiguri are the nearest airport and railheads, respectively. Both are well connected from Kolkata, New Delhi and Guwahati. It is better to travel to Kolakham via Lava. One needs to change vehicle from Lava to reach Kolakham.
Height from sea level: Kolakham is at 6100 ft from sea level. Winter temperatures range from 6°C to 0°C. In summers, it is between 10°C and 17°C.
Where to stay: Mostly home stays are available. Booking can be done online. Most home stays are of duplex style offering direct view of Kanchenjunga. Average room rent is Rs 2,500 including all meals.
For a scenic drive: Take the Garubathan route from New Jalpaiguri station to enjoy the green tea gardens of Dooers enroute.
Places around: Chaggey waterfalls are a famous picnic spot. Other exotic locations are Lava and Ryshop from Kolakham.
Specials tips: Carry emergency medicines, caps, sunglasses, woollens, binoculars etc.
Useful websites: www.kolakham.com and www.wildbengal.com

This article was published on 9th June, 2013 in The Tribune

Click here to view the original article